Good Luck being a Whistleblower at the VA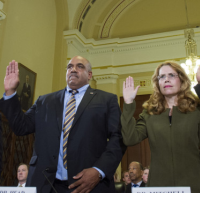 Dr. Christian Head and Dr. Katherine Mitchell testify before House VA Committee in 2014 (photo: Cliff Owen, AP)
No federal agency makes it harder on employees who report wrongdoing than the Department of Veterans Affairs (VA), despite recent promises of reform.
Numbers compiled by the Office of Special Counsel (OSC), an independent federal agency that investigates whistleblower claims, show there were 111 VA reprisal cases involving health and safety issues since last July.
OSC head Carolyn Lerner told lawmakers at a special hearing of the House Committee on Veterans Affairs that she expects 40% of OSC's cases to come from the VA this year, far more than from any other agency, The Washington Post reported.
More than 25 VA whistleblowers have received legal settlements for retaliations stemming from the wait-time scandal in which some VA medical facilities kept hidden lists and forced patients to experience prolonged delays to see a doctor. Another 120 cases are still pending.
The hearing also featured testimony from whistleblowers who told just how awful it was for them at the VA. Dr. Christian Head, who came forward about patient wait time cover-ups at the VA's Greater Los Angeles VA Healthcare System, talked about efforts to retaliate against him. "Isolate. Then defame. Moving me to a storage bin makes me feel bad, but they are sending a message. They are trying to suppress [whistleblowers'] willingness to try to make a better life for these veterans."
Head testified that the locks to his office were changed, that he was relocated to a "tiny, dirty, poorly furnished closet-sized office" and was nearly prevented from entering the operating room of one of his patients.
Other VA whistleblowers have committed suicide in response to the harassment they endured after reporting problems in the agency. Christopher Kirkpatrick, a clinical psychologist who was fired from the Tomah Veterans Affairs Medical Center after reporting over-drugging of patients, shot himself in the head in 2009.
Representative Mike Coffman (R-Colorado) said of whistleblowers at the hearing the "hostility they receive for their conscientious behavior shows that the retaliatory culture, where whistleblowers are castigated for bringing problems to light, is still very much alive and well in the Department of Veterans Affairs."
He added: "The truth of the matter is, the Congress needs whistleblowers within federal agencies to help identify problems on the ground in order to remain properly informed for the development of effective legislation."
VA Secretary Bob McDonald assumed his post in 2014, promising to change the culture at the agency.
-Noel Brinkerhoff, Steve Straehley
To Learn More:
Isolated. Harassed. Their Personal Lives Investigated. That's Life as a VA Whistleblower, Employees Tell Congress. (by Emily Wax-Thibodeaux, Washington Post)
VA's Handling of Whistleblowers Continues to Irk Lawmakers (by Charles Clark, Government Executive)
Whistleblowers Say Retaliation Unabated Year into VA Scandal (by Heath Druzin, Stars and Stripes)
For One Whistleblower, Getting Fired Was Too Much (by Donovan Slack, USA Today)
VA Accused of Retaliating against Whistleblowers (by Noel Brinkerhoff, AllGov)