Acting Director of the U.S. Secret Service: Who Is Joseph Clancy?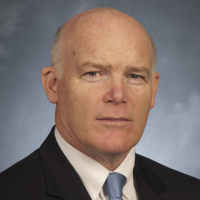 On October 1, 2014, Homeland Security Secretary Jeh Johnson named Joseph P. Clancy, a former U.S. Secret Service agent, to head the agency after the resignation of Julia Pierson.
Clancy is a native of Havertown, Pennsylvania, a suburb of Philadelphia. He attended Archbishop Carroll High in Radnor, where he was the captain of the football team and graduated in 1973. He won an appointment to the U.S. Military Academy at West Point and played football there. However, he had problems with his studies and withdrew, transferring to Villanova University in Philadelphia. He graduated in 1978 with a degree in political science.
His first job out of college was teaching American government and modern European history at Father Judge High School in Philadelphia. In May 1984, he joined the Secret Service in the Philadelphia field office.
In 1989 Clancy began eight years in the Presidential Protection Division and eventually led security details for presidents Bill Clinton and George W. Bush. While on Clinton's detail he helped avert an international incident in 1993 when the president, on a visit to the Demilitarized Zone separating North Korea and South Korea, wandered toward the northern side of the border on a bridge. North Korean border guards began to stir, but Clancy got Clinton to return to the south side of the bridge.
After a stint in the New York Field Office, in 1999 Clancy returned to the Presidential Protection Division as assistant to the special agent in charge. In 2001 he transferred to the Secret Service headquarters and worked as a liaison with Congress and in the internal affairs division. He also served as director for National Special Security Events.
Back once more in the Presidential Protection Division in March 2003, he was promoted to deputy special agent in charge in June 2005.
Clancy moved up to special agent in charge of presidential protection in February 2009 when Barack Obama assumed office.
Under his watch, in November 2009, a couple famously crashed a White House dinner honoring Indian Prime Minister Manmohan Singh. The couple, who greeted President and Mrs. Obama, was apparently auditioning for spots in a reality television series. Clancy offered his resignation to then-Secret Service Director Mark Sullivan because of the security breach, but Sullivan declined to accept it.
Clancy retired from the Secret Service at the end of June 2011 and took a job with Comcast in Philadelphia. He served as director of corporate security and executive director of Comcast Cable Security. In May 2014, Clancy diffused what could have been a difficult situation at Comcast headquarters. Protesters demanded the company accept petitions to stop the acquisition of rival Time Warner Cable. Clancy met with the protesters and calmly accepted their petitions.
Clancy and his wife, Andrea, have four children, including a son who works for the Secret Service.
-Steve Straehley, David Wallechinsky
To Learn More:
Clancy, Acting Secret Service Chief, Will Give Obamas a Familiar, Reliable Level of Trust (by David Nakamura, Washington Post)
Haverford Native Joseph Clancy Tapped To Head Secret Service (by John Kopp, Delaware County Daily Times)