U.S. Ambassador to Greece: Who is George Tsunis?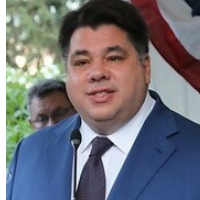 George Tsunis
The first time George Tsunis was nominated to be a U.S ambassador, it did not go well. He had bundled $988,550 for Barack Obama's 2012 presidential campaign. As a reward, Obama put him forward as the U.S. ambassador to Norway. Apparently though, Tsunis made no attempt to prepare for his confirmation hearing before the Senate Foreign Relations Committee. He had never visited Norway and knew so little about the country that he referred to its prime minister as the nation's "president." His worst transgression came when he accused the Norwegian Progress Party of spewing "hatred" and inserting "fringe elements" into Norwegian politics. Tsunis was apparently unaware that the Progress Party was part of the ruling government coalition. Accused of being an "ambassadonor," in December 2014, fifteen months after he was nominated, he withdrew.
But Tsunis had learned his lesson. He waited until another Democrat occupied the White House, and he tried again, this time to be the U.S. ambassador to Greece, a country with which he was more familiar. Playing it safe, Tsunis, in addition to donating to Democratic candidates, chipped in to help Republicans as well, including Rand Paul, John Barrasso and Jim Risch, all of them members of the Senate Foreign Relations Committee, which approves ambassador nominees. Tsunis' strategy worked. After President Joe Biden nominated him to be U.S. ambassador to Greece, he was confirmed by the U.S. Senate by voice vote on March 10, 2022. He presented his credentials in Greece two months later. Tsunis is the first non-career appointee to serve as ambassador to Greece in a century.
Tsunis contributed $50,000 to Republican John McCain's 2008 presidential run before switching parties in November 2009 and becoming a major donor to Obama's 2012 re-election run.
Tsunis is the chairman and CEO of Chartwell Hotels, which owns, develops and manages Hilton, Marriott and other hotels in eleven states.
Because of his business's presence in northern Pennsylvania, Tsunis told The National Herald, the newspaper of the Greek diaspora, that he had taken advantage of the growth of natural gas fracking by "providing a lot of the picks and shovels for the Marcellus Shale."
Tsunis' father, James Tsunis, along with his cousin Charles, owned coffee shops and then developed the Bonwit Inn on Long Island in 1971, eventually investing in hotels and real estate.
Born in 1968, George James Tsunis earned a BA at New York University in 1989 and a JD at St. John's University School of Law in 1992.
Tsunis' first political work was as an aide to Sen. Alfonse D'Amato (R-New York), who served in the U.S. Senate from 1981 to 1999. In 1993, Tsunis ran a losing campaign as a GOP candidate for the Suffolk County Legislature, and in 1999 he was finance coordinator for Suffolk County Executive Robert Gaffney's re-election campaign.
After registering as a Democrat in 2009, Tsunis raised hundreds of thousands of dollars for Barack Obama's 2012 campaign, donated $300,000 to Democratic super PACs and $75,800 to the Obama Victory Fund, according to the OpenSecrets. State records show that Tsunis and his wife, Olga, also gave $115,000 to New York Governor Andrew M. Cuomo's 2014 re-election campaign.
As a practicing attorney, Tsunis was a partner at the law firm of Rivkin Radler LLP, which is Long Island's largest law firm, practicing land use and zoning, real estate, corporate, municipal law and commercial litigation.
Tsunis has engaged in public service over the years, including as a legislative attorney for the New York City Council, special counsel to the Town of Huntington Environmental Open Space Committee, and as counsel to the Dix Hills Water District. He also made a $1.25 million gift to Stony Brook University for the creation of the George and Olga Tsunis Center in Hellenic Studies and The James and Eleni Tsunis Chair in Hellenic Studies, the latter in honor of Tsunis' parents.
A member of the Archdiocesan Council of the Greek Orthodox Archdiocese of America, Tsunis is an archon of the Ecumenical Patriarchate (Order of Saint Andrew)—the highest ecclesiastical honor that can be bestowed upon a layman—and serves on its National Council.
Tsunis' only foreign policy experience consists of memberships on the Brookings Institution Foreign Policy Leadership Committee and its Metropolitan Leadership Council, as well as on Business Executives for National Security.
George Tsunis has been married to his wife Olga (Antzoulis) since November 2004. They live in Lloyd Harbor, Long Island, with their three children.
-David Wallechinsky
George Tsunis Financial Disclosure Report, July 2020
Nominee for U.S. Ambassador to Norway Gives Up; Who Was George Tsunis? by Noel Brinkerhoff
Ambassador to Norway: Who Is George Tsunis? by Matt Bewig, AllGov