Bonus System to Clear Backlog of Veterans' Claims Backfires for those most in Need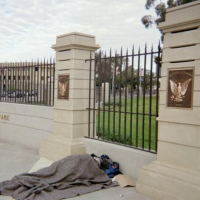 Veteran sleeping in front of VA campus in Los Angeles (photo: Veterans Today)
More than 2.5 million American men and women went to war in Afghanistan and Iraq, and while most of them returned home, many have struggled with the physical, mental and emotional trauma from warfare with insufficient help from their government.
For serving and defending their country, these veterans are supposed to receive disability payments, job assistance, health care and treatment for what will be lifelong injuries and illnesses, such as post-traumatic stress disorder (25%), traumatic brain injuries (7%) and other physical disabilities.
But getting disability compensation has been a nightmare for hundreds of thousands of ex-soldiers. An in-depth look by News21, a Carnegie-Knight Initiative on the Future of Journalism Education at Arizona State University, at the lives of the 2.6 million veterans who fought in the post-9/11 wars found the Department of Veterans Affairs (VA) still has a backlog of claims belonging to more than 500,000 veterans who have waited 125 days or longer to be paid.
In an attempt to clear up this backlog, the VA instituted a "credit system" with claims workers to encourage faster processing of paperwork. More than $5.5 million in bonuses were handed out under the system, which inadvertently encouraged VA employees to process less-complex claims first.
Consequently, claims from veterans with more complicated cases languished, creating more delays and problems. This came about because complex claims took more time to make the necessary phone calls and to send follow-up letters to veterans and others—"all of which received zero points on the Veterans Benefits Administration performance evaluation for processors until December 2012, when the system was changed," News21 reported.
Roger Moore, a local union representative for Boston claims processors, told News21 that employees set aside complicated claims to preserve their jobs. "It's like, 'He's gotta wait, because I have to get my numbers or my job is in jeopardy.'"
-Noel Brinkerhoff
To Learn More:
Post 9/11 Veterans Come Home to a Nation that cannot Address their Needs (News21)
Veterans Waiting more than a Year for Benefits have Grown from 11,000 to 245,000 under Obama (by Noel Brinkerhoff, AllGov)