Director of the FBI: Who Is James Comey?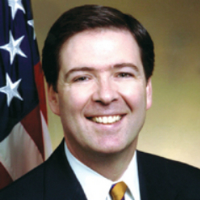 Criticized for appointing big dollar campaign donors and bundlers to important federal jobs, President Barack Obama broke the mold in nominating James B. Comey to be the next FBI director. Although Comey donated more than $7,000 during the 2008 and 2012 presidential campaigns, his money went to Obama's Republican opponents, Arizona Sen. John McCain and Mitt Romney.
But Comey became a political hero on the moderate Left in January 2006, when reports surfaced regarding his role two years previously in averting a constitutional crisis by forcing the George W. Bush White House to accept certain changes to its warrantless wiretapping program. If confirmed by the Senate as expected, Comey would succeed Robert F. Mueller, III, who is statutorily required to step down as of September 4, 2013.
Born December 14, 1960, in Yonkers, New York, James Brien Comey grew up in Allendale, New Jersey, graduating from Northern Highlands Regional High School in 1978. Comey earned undergraduate degrees in Chemistry and Religion at the College of William and Mary in 1982, writing his senior thesis on liberal theologian Reinhold Niebuhr and conservative televangelist Jerry Falwell, trying to find commonality in their belief in public action. He earned his JD at the University of Chicago Law School in 1985.
After law school, Comey served as a law clerk for U.S. District Judge John M. Walker, Jr., in Manhattan, and practiced law as an associate at the New York office of Gibson, Dunn & Crutcher. In 1987, Comey joined the U.S. Attorney's Office for the Southern District of New York, working on the prosecution of the Gambino crime family and rising to deputy chief of the Criminal Division before leaving in 1993.
Comey moved South in 1996 to serve as managing assistant U.S. Attorney in charge of the Richmond Division of the Eastern District of Virginia, remaining through 2001. Comey was the lead prosecutor in the 1996 Khobar Towers bombing case in Saudi Arabia, and also worked as an adjunct professor of law at the University of Richmond School of Law.
Comey was appointed U.S. Attorney for the Southern District of New York in January 2002, staying until his confirmation as Deputy Attorney General on December 11, 2003. In those two years, he led or supervised many cases, including the high-profile prosecutions of Adelphia Communications founder John Rigas, sons Timothy and Michael, and others for fraud; of Martha Stewart for securities fraud and obstruction of justice; of ImClone CEO Samuel Waksal for tax evasion; and of Frank Quattrone for obstruction of justice.
It was during his tenure as deputy attorney general from December 9, 2003, to August 15, 2005, that Comey took the stand that later made him famous. In March 2004, Comey was acting attorney general during a surgical hospitalization of Attorney General John Ashcroft. Certain aspects of a secret domestic wiretapping program run by the National Security Agency needed to be certified as lawful by the Justice Department, and Comey, based on legal conclusions reached by the Office of Legal Counsel, refused. Despite Ashcroft's fragile condition, White House Chief of Staff Andrew Card, Jr., and White House Counsel Alberto Gonzales made an emergency visit to Ashcroft's hospital bedside to try to gain approval from him instead.
Alerted to their plan, Comey, accompanied by FBI director Mueller, went to the hospital to help Ashcroft withstand the White House pressure. Both Comey and Mueller threatened to resign if the White House ignored the Justice Department's legal conclusions. Comey withdrew this threat after meeting with President George W. Bush, who finally agreed to changes in the surveillance program. Comey later testified to a Senate Committee that after the Card-Gonzales visit he was "angry," because "I had just witnessed an effort to take advantage of a very sick man who did not have the powers of the attorney general."
Many human rights and civil liberties advocates are not so impressed by Comey's record. The ACLU released a statement noting that "As the second-highest ranked Justice Department official under John Ashcroft, Comey approved some of the worst abuses committed by the Bush administration. Specifically, the publicly available evidence indicates Comey signed off on enhanced interrogation techniques that constitute torture, including waterboarding. He also oversaw the indefinite detention without charge or trial of an American citizen picked up in the United States and then held for years in a military brig. Although Comey, despite tremendous pressure from the Bush White House, deserves credit for courageously stopping the reauthorization of a secret National Security Agency program, he reportedly approved programs that struck at the very core of who we all are as Americans."
Comey left the Department of Justice in August 2005 to become general counsel and senior vice president at Lockheed Martin, the world's largest defense contractor. Leaving five years later, Comey joined Bridgewater Associates, LP in June 2010. After leaving Bridgewater, on February 1, 2013, Comey was appointed a senior research scholar and Hertog Fellow on National Security Law at Columbia University Law School. Since 2012, he has also served on the Defense Legal Policy Board.
A Republican, Comey has donated about $10,000 to Republican candidates and organizations over the years, including $2,300 to John McCain in 2008 and $5,000 to Mitt Romney's 2012 campaign.
James Comey and his wife Patrice are the parents of five children.
-Matt Bewig
To Learn More:
Former Bush Official Said to Be Obama Pick to Lead F.B.I. (by Michael S. Schmidt, New York Times)
Comey's Conservative Chops (by David Steinbach, OpenSecrets)
The Bedside Manner of James Comey, Obama's FBI Pick (by Abby Oelheiser, The Atlantic)
James Comey and the Most Riveting 20 Minutes of Congressional Testimony. Maybe Ever. (by Paul Kane, Washington Post) (includes link to YouTube video of Comey's Senate testimony)