Judge Orders Defense Dept. to Release Names of Instructors and Students at School of Americas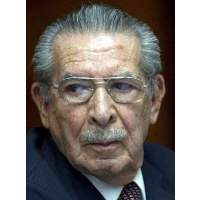 Former Guatemalan dictator Eftain Rios Montt (photo: EFE)
In what one leading activist, Father Roy Bourgeois, called "a victory for transparency and human rights, and against government secrecy," a federal judge last week ordered the Department of Defense to release the names of recent instructors and trainees at the Western Hemisphere Institute for Security Cooperation (WHINSEC), better known by its former name, the School of the Americas. The Obama administration is expected to appeal.
Known as the Latin American Training Center when it opened at Fort Benning, Georgia, in 1946, it became the School of the Americas (SOA) in 1963, but shed the name after reports emerged that soldiers trained there helped kill six Jesuit priests, their housekeeper and her 16-year-old daughter in El Salvador in 1989. It trains Latin American soldiers to fight left-wing insurgencies, and (at least in the past) its training manuals advocated targeting civilians, extrajudicial executions, torture, false imprisonment and extortion. Not surprisingly, many of its graduates—including such notorious figures as Gen. Efrain Rios Montt of Guatemala, Gen. Manuel Noriega of Panama and Captain Roberto D'Aubuisson of El Salvador—went on to form death squads and commit human rights abuses.
Identifying those graduates is the issue at the heart of the case decided last week. The watchdog group School of Americas Watch (SOAW), having compiled a database of SOA instructors and trainees for the period 1946 to 2003 from government records, wants to bring it up to date. The Army, however, stopped disclosing data about its students and instructors in 2004, soon after SOAW documented five cases of SOA training individuals with already-existing human rights records.
After SOAW members Theresa Cameranesi and Judith Liteky filed a Freedom of Information Act (FOIA) request for documents listing SOA's instructors and students from 2005 to 2010, the Pentagon refused to release the bulk of the requested information, citing FOIA exemptions 3 (personal privacy of the instructors and students) and 6 (national security).
Federal District Judge Phyllis Hamilton, who was appointed by President Bill Clinton in 2000, rejected both of the government's arguments. She found that the government had not proved that the alleged privacy interests were "substantial, and has not shown through admissible evidence that the release of this information would constitute a clearly unwarranted invasion of personal privacy, in light of the strong public interest in access to this information as shown on the record before the court." She denied the national security exemption on technical grounds.
-Matt Bewig
To Learn More:
DOD's Foreign Training Records Face Exposure (by Philip A. Janquart, Courthouse News Service)
Transparency Victory: Department of Defense Must Release Names of Notorious Torture School Instructors, Trainees (by Andrea Germanos, Common Dreams)
Cameranesi v. U.S. Dept. of Defense (Northern District of California) (pdf)
U.S. Still Training Honduras Military after Military Coup (by Noel Brinkerhoff, AllGov)