U.S. Still Training Honduras Military after Military Coup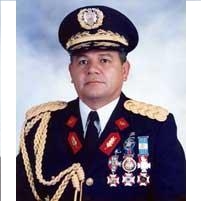 Romeo Orlando Vásquez Velásquez
Despite President Barack Obama's denunciations of last month's coup in Honduras and promises to cut ties with its military, the U.S. government is still training Honduran officers at the controversial Western Hemisphere Institute for Security Cooperation, aka the School of the Americas (SOA).
An SOA spokesman told the National Catholic Reporter he was unsure just how many Hondurans were still training at the U.S Army-run school. The school has a long history of graduating Latin American military personnel who have gone on to commit human rights abuses and overthrow their governments, including those involved in the June 28 coup. The SOA official also said it was possible Hondurans were being trained at other U.S. military schools.
The U.S. had agreed before the overthrow to train 88 Hondurans this year at the SOA, which graduated more than 400 Hondurans from 2001-2008. These include General Romeo Orlando Vásquez Velásquez, who led the recent coup, General Juan Melgar Castro and General Policarpo Paz Garcia, along with five other officers who are part of the military clique running the country.
The Foreign Operations Appropriations Act requires the U.S. military to cease all aid and training to a country that has undergone a military coup.
-Noel Brinkerhoff