HSBC Hit with Fine for Helping Drug Cartels and Dictators; Executives Too Big to Jail
Thursday, December 13, 2012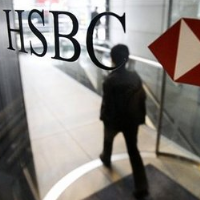 (AP Photo)
Prosecutors in the United States decided on a lesser penalty for British-based HSBC bank for helping drug cartels and sanctioned foreign governments to illegally move billions of dollars.
HSBC agreed to pay $1.92 billion to settle charges that it transferred billions of dollars for nations like Iran and enabled Mexican drug cartels to shift money illegally through its American subsidiaries.
Prosecutors could have indicted the bank on criminal charges, but decided not to out of fear that such action could have crippled HSBC and destabilized the international financial system.
One of the world's largest banks, HSBC has $2.5 trillion in assets. It made almost $22 billion in profits last year.
"While the settlement with HSBC is a major victory for the government, the case raises questions about whether certain financial institutions, having grown so large and interconnected, are too big to indict," wrote Ben Protess and Jessica Silver-Greenberg of The New York Times. "Four years after the failure of Lehman Brothers nearly toppled the financial system, regulators are still wary that a single institution could undermine the recovery of the industry and the economy."
There were those within the Department of Justice and New York City's Manhattan District Attorney office that wanted the bank to plead guilty to violating the Bank Secrecy Act, which requires financial institutions to report any cash transaction of $10,000 or more and to notify regulators about any suspicious financial activity by customers.
But prosecutors ultimately chose to not go this route, or pursue a money-laundering indictment, which would have destroyed the bank's reputation and its future. The editorial staff of The New York Times observed that "It boggles the mind that a bank could launder money as HSBC did without anyone in a position of authority making culpable decisions. Clearly, the government has bought into the notion that too big to fail is too big to jail. When prosecutors choose not to prosecute to the full extent of the law in a case as egregious as this, the law itself is diminished."
The HSBC case is part of a massive government investigation into illegal money that is being passed through the U.S. financial system. The operation—which is spearheaded by the Department of Treasury, the Manhattan D.A.'s office, and a Department of Justice money-laundering task force—has entrapped six foreign banks in the last few years.
-Noel Brinkerhoff
To Learn More:
HSBC to Pay $1.92 Billion to Settle Charges of Money Laundering (by Ben Protess and Jessica Silver-Greenberg, New York Times)
Too Big to Indict (editorial, New York Times)
HSBC to Pay $1.9 Billion, Gets Monitor and Prosecution Deferred (Corporate Crime Reporter)
Justice Department Outlines HSBC Transactions with Drug Traffickers (by Peter Finn and Sari Horwitz, Washington Post)
District Court Prosecution Agreement in HSBC Case (pdf)
Drug Cartel Money Laundering in U.S. Is Devastating Unless You're a Bank (by Noel Brinkerhoff, AllGov)
Gaddafi Invested Heavily in Wall Street and U.S. Bonds (by Noel Brinkerhoff and David Wallechinsky)
Senate Report Finds U.S. Banks Support Corrupt Regimes Through Offshore Accounts (by Noel Brinkerhoff, AllGov)