Gaddafi Invested Heavily in Wall Street and U.S. Bonds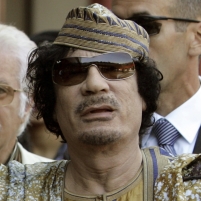 Muammar Gaddafi
An internal document produced by the Libyan Investment Authority and leaked to the media detailed $53.3 billion in assets around the world as of June 30, 2010. Goldman Sachs has held $182 million in Libyan assets and JPMorgan Chase 171 million. The U.S. hedge fund Och-Ziff received $329 million to take care of.
More than $290 million of Libyan state money was on deposit in various HSBC accounts and another $275 million was in an HSBC hedge fund. The Royal Bank of Scotland has managed $110 million in private equity funds for the regime of Muammar Gaddafi, and the French bank Société General has handled $1.8 billion in three investment funds.
Gaddafi's government also owned major holdings in such American companies as General Electric ($217 million), Pfizer ($143 million), AT&T ($135 million), Occidental Petroleum $80 million), Caterpillar ($34 million), Halliburton ($34 million), ExxonMobil ($24 million), United Technologies ($20 million), Citigroup ($20 million) and Honeywell ($13.5 million).
The regime also held $2 billion in bonds in the United States, including $953 million worth of U.S. Treasury bonds, $500 million with Bank of New York, $20.5 million in bonds with Bank of America and $18 million with General Electric Capital.
All of these Libyan assets have now been frozen as a result of the U.S. and European governments taking action against the Gaddafi regime for attacking its civilians during the recent uprising.
-Noel Brinkerhoff, David Wallechinsky