Which Companies Profit from the Use of Military Equipment by Police?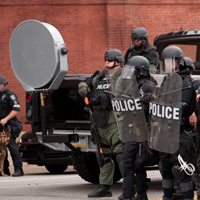 LRAD long-range acoustic device
The saga of Ferguson, Missouri, has sparked considerable discussion over the wisdom of militarizing American police forces, and it has drawn attention to those companies that have profited from the arming (and armoring) of local law enforcement.
The products and equipment of at least half a dozen businesses have been on display in Ferguson as police have tried to strong-arm demonstrators.
These include tear gas, rubber bullets, smoke bombs, stun grenades, armored personnel carriers, sound cannons and high-caliber rifles, according to Alex Kane at AlterNet.
Tear gas used by U.S. police forces are provided by one of three companies: Combined Systems Inc. (CTS) and NonLethal Technologies Inc., both based in Pennsylvania, and Defense Technology of Wyoming, according to Zach Carter at Huffington Post. CTS and Defense Technology have exported their tear-gas products overseas to Israel, Egypt and Bahrain, while Yemen, Turkey and Tunisia have been customers of Defense Technology.
Another domestic supplier is LRAD Corporation, maker of long-range acoustic devices that produce high-decibel noises that can chase away pirates on the high seas or disrupt protestors. LRAD became known domestically when it was used to break up protests at the G20 conference in Pittsburgh in 2009.
Lenco builds and sells the Bearcat armored truck, which is a version of the Mine Resistant Ambush Protected vehicle used in Afghanistan and Iraq to protect troops from mines and IEDs, none of which have ever been deployed in St. Louis County.
Taser International, provider of stun guns for officers, is enjoying a boost in business these days, but it's not because of its popular namesake product. Kane says "the key reason its stock has risen is because of expectations that the images of police brutality and excess [in Ferguson] will lead to body cameras—a product Taser International makes—being outfitted on cops there."
Of course, if its namesake product had been used by Ferguson police a couple weeks ago, the other equipment might not have been necessary.
-Noel Brinkerhoff, Steve Straehley
To Learn More:
Tear Gas, Stun Grenades, Sound Cannons: Companies Profiting From Police Crackdowns Like Ferguson (by Alex Kane, AlterNet)
This Company Is Profiting From Police Aggression In Ferguson (by Zach Carter, Huffington Post)
A Spotter's Guide To Military-Grade Gear Now Being Used By Police (by Kelsey D. Atherton, Popular Science)
A Former Marine Explains All the Weapons of War Being Used by Police in Ferguson (by Lyle Jeremy Rubin, The Nation)
Militarization of the Police…Ferguson Edition (by Noel Brinkerhoff, AllGov)
Richest Corporations Received Millions of Dollars in Small Business Contracts (by Noel Brinkerhoff, AllGov)