Militarization of the Police…Ferguson Edition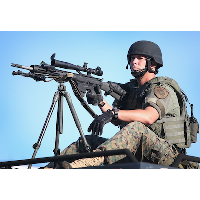 Policeman in Ferguson, Missouri (photo: Scott Olson, Getty Images)
If a person looks like a soldier, carries semiautomatic weapons like a soldier and drives a military vehicle, does that make them a soldier or a police officer? The presence of a small patch that says "police" on the camo uniforms of those patrolling Ferguson, Missouri, appears to be the only difference between the two.
Since the killing of teenager Michael Brown last weekend and the ensuing riots and police response, many have asked if the militarization of America's law enforcement has gone too far.
In the town of 21,000 people outside St. Louis, the local police have looked more like an occupying army flown in from Afghanistan, thanks to the array of military surplus provided by the Department of Defense, including helicopters, an armored truck, body armor and night vision equipment.
Ferguson's police department is just one of the many around the country that are part of the Pentagon's 1033 program that has distributed more than $4 billion worth of used military hardware to law enforcement agencies, including $9.4 million to police in St. Louis County.
Until Missouri Gov. Jay Nixon (D) ordered the state highway patrol to take charge of security in Ferguson, the police officers patrolling the city's streets were carrying 5.56-mm rifles similar to the M4 carbine employed by the U.S. Army. They also had sidearms, body armor, multiple ammunition clips, and they rode around in armored vehicles reminiscent of the kind used to shuttle soldiers through Iraq.
Some of the police dealing with demonstrators seemed to have lost all sense that they were there to "serve and protect," Paul Szoldra reported at the Business Insider.
"Bring it. You fucking animals, bring it," one police officer was caught on video telling protesters, according to Szoldra, who noted that "in Ferguson and beyond, it seems that some police officers have shed the blue uniform and have put on the uniform and gear of the military, bringing the attitude along with it."
The phalanx of officers in camouflage gear and automatic weapons in Ferguson also drew criticism from Missouri Sen. Claire McCaskill (D). "We need to demilitarize this situation—this kind of response by the police has become the problem instead of the solution," she said.
"I obviously respect law enforcement's work to provide public safety, but my constituents are allowed to have peaceful protests, and the police need to respect that right and protect that right. Today is going to be a new start; we can and need to do better," McCaskill continued.
-Noel Brinkerhoff
To Learn More:
This Is the Terrifying Result of the Militarization of Police (by Paul Szoldra, Business Insider)
Pentagon Weaponry in St. Louis County (by David Mastio and Kelsey Rupp, USA Today)
Rubber Bullets, Tear Gas, Violence; 2 Reporters Arrested in Ferguson (by Joe Harris, Courthouse News Service)
$4.2 Billion in Military Hardware Donations Fuels Militarization of U.S. Police Forces (by Danny Biederman and Noel Brinkerhoff, AllGov)
U.S. Dumps Excess Equipment on Police Departments that Don't Need It (by Noel Brinkerhoff, AllGov)