The $36 Million Marine Headquarters in Afghanistan that was never Used: Who Pocketed the Money?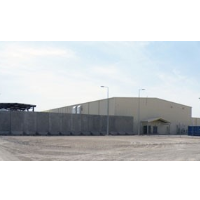 (photo: SIGAR)
In the middle of Afghanistan's Helmand province, one of the most violent and war torn in the country, sits a $36 million Marine Corps headquarters building that never was used by the U.S. Marine Corps.
Four years ago, AMEC Earth and Environment Inc. was hired by the military to build a command and control facility for the Marines who surged into Afghanistan in 2010. The structure was quite large, covering 64,000 square feet, and its costs—like that of so many wartime projects—wound up exceeding expectations. The budget nearly ended up doubling in size, finally topping out at about $36 million.
And yet, the money never would have been spent had the Corps heeded the requests of then-Maj. Gen. Richard P. Mills, the general in charge of the surge in Helmand. Mills said the headquarters wasn't needed at Camp Leatherneck, that commanders could make do with other facilities. The building wasn't even seen as something that would have been nice to have. "We certainly needed many things in those early days at Camp Leatherneck," Marine Maj. Gen. Larry Nicholson, Mills' predecessor, said, "but we were very pleased with [current headquarters], and frankly we had many far more pressing facility issues."
Neither Mills nor Nicholson, nor a third general, Timothy McHale, got their way, however.
"The request to cancel the building was rejected by then-Major General Peter M. Vangjel, who believed that it would not be 'prudent' to cancel a project for which funds had already been appropriated by Congress," Special Inspector General for Afghanistan Reconstruction John Sopko wrote in a letter to Secretary of Defense Ashton Carter.
"Not one, not two, but three generals tried to kill" the project, dubbed 64K, Megan McCloskey and Vince Dixon wrote at ProPublica. "In the process, the story of '64K' reveals a larger truth: Once wartime spending gets rolling there's almost no stopping it."
As it turned out, the building never was used by Marines, in part because it wasn't finished until after the surge was over and the Marines pulled out. Afghans now occupy part of the massive structure, but must use generators for power because their equipment is incompatible with the sophisticated electronics and U.S. electrical setup of the building.
-Noel Brinkerhoff, Steve Straehley
To Learn More:
Boondoggle HQ: The $25 Million Building in Afghanistan Nobody Needed (by Megan McCloskey and Vince Dixon, ProPublica)
$36 Million Command and Control Facility at Camp Leatherneck, Afghanistan: Unwanted, Unneeded, and Unused (Special Inspector General for Afghanistan Reconstruction) (pdf)
Letter to Secretary Hagel, General Austin, and General Dunford (Special Inspector General for Afghanistan Reconstruction) (pdf)
Marine Corps Clashes with Whistleblower over Murder of 3 Marines in Afghanistan (by Steve Straehley, AllGov)