Military's 2014 Political Donations: Army and Navy Favor Democrats, the Rest Lean Republican
Thursday, November 13, 2014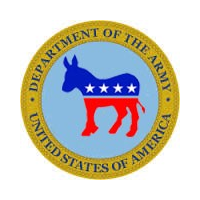 (graphic: Steve Straehley, AllGov)
Anecdotally, members of the military are often thought to be more conservative, and data on political contributions by service personnel backs up this notion. If there's one branch of the armed services that leans Democratic, it is the U.S. Army.
About $534,000 was given to political candidates, party committees and outside spending groups by active duty military personnel, according to OpenSecrets.org.
The vast majority of members of the Air Force (74%) and Marine Corps (81%) who wrote checks really leaned in the GOP's direction. Those branches' contributions totaled about $150,000.
But Army donors, who collectively gave almost $250,000, directed 48% of their contributions, $122,000, to Democrats, with 45% going to Republicans.
As for the Navy, "a plurality of its donations" went to Democrats and liberal groups, according to John Sugden at the Center for Responsive Politics.
-Noel Brinkerhoff
To Learn More:
Military Donors: Army Gives Democratic, Other Branches Favor GOP (by John Sugden, Center for Responsive Politics)
Defense: Top Contributors to Federal Candidates, Parties, and Outside Groups (Center for Responsive Politics)
Defense Firms Prefer GOP, But Spread Campaign Cash between Political Parties (by John T. Bennett, Military Times)
Republicans Barely Edge Out Democrats as American Voters' Least Favorable Party (by Steve Straehley, AllGov)
This Year, Lockheed Donated to Election Campaigns of 386 of 435 Members of House of Representatives (by Noel Brinkerhoff, AllGov)