Republicans Barely Edge Out Democrats as American Voters' Least Favorable Party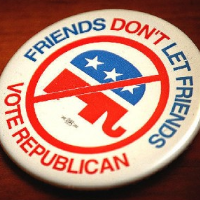 Call them the greater of two evils. According to a new Gallup poll, Americans view the Republican Party with less favor than they do the Democratic Party. However, both parties are viewed more unfavorably than favorably.
The numbers show that only 34% of those surveyed view the GOP favorably. That is up a bit from the 28% figure observed during last October's shutdown of the federal government by Congressional Republicans. According to the poll, which was conducted April 24-30, Democrats were viewed favorably by 44% of those surveyed. The unfavorable ratings were 59% for the GOP and 50% for the Democratic Party.
Some observers say this is the beginning of the end for national aspirations for the Republican Party. Democratic strategist Doug Sosnik writes in Politico that the moves the GOP is making to take the Senate in the upcoming midterm elections will doom them in 2016.
One of Republicans' biggest problems, Sosnik says, is the way they're perceived by women. They have voted Democratic in the past three decades of presidential elections, including the one in 2004 won by George W. Bush.
"The Republican Party's policy positions on women's health and choice have only worsened these tensions with female voters," Sosnik wrote. "Rather than reconsider those positions, Republicans have concluded that they simply have a communications problem."
The GOP faces a similar problem with non-white voters, whose percentage of the electorate is steadily increasing and who vote more Democratic with each presidential election.
To try to win control of the Senate this fall, Republicans are moving right with their policy positions and tactics. Those moves might work for them in 2014, but could prove self-defeating thereafter. Even the GOP realizes this. According to its post-2012 analysis, "The federal wing is increasingly marginalizing itself and unless changes are made, it will be increasingly difficult for Republicans to win another Presidential election in the near future."
One columnist has a solution for his fellow conservatives. Jeffrey Dorfman, an economics professor at the University of Georgia, writes in Forbes that forming a new party, based on libertarian principles, could attract voters. As well as adopting a laissez-faire attitude toward the economy, the new party would extend its libertarian principles to such social issues as marijuana use and same-sex marriage.
Although third parties have difficulty gaining traction with voters, Dorfman says that an infusion of talent from the Republican Party could jumpstart the effort. "By starting a new 'second' party with well-known politicians from the current second party, such a political party would be relevant immediately and would have a voice in national politics right from the start," Dorfman wrote.
-Steve Straehley
To Learn More:
Democratic Party Still Seen More Favorably Than GOP (by Andrew Dugan, Gallup)
Groucho Marx's Republican Party (by Doug Sosnik, Politico)
2014 Should Be The Republican Party's Last Chance (by Jeffrey Dorfman, Forbes)
62% of Americans Believe the Republican Party is Out of Touch, and 36% of Republicans Agree (by Noel Brinkerhoff, AllGov)