Intelligence Contractors Give Millions to Congressional Oversight Members
Wednesday, December 11, 2013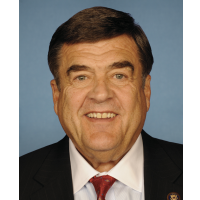 Dutch Ruppersberger
Republicans and Democrats serving on congressional oversight committees have defended the National Security Agency (NSA) in light of the revelations exposed by whistleblower Edward Snowden. And it's no wonder they have, considering how much money they've received from contractors invested in NSA and other intelligence operations.
Since 2005, the 20 top intelligence companies have contributed $3.7 million to members of the House Permanent Select Committee on Intelligence and the Senate Select Committee on Intelligence, according to Maplight, a government watchdog organization.
This might help to explain why these two committees have stalled legislation by other members of Congress to reform NSA surveillance programs.
The biggest spenders among those 20 intelligence contractors have been Lockheed Martin, which gave $798,910 to committee members, followed by Northrop Grumman ($753,101) and Honeywell ($714,913).
The top individual recipients among lawmakers have been those representing the state of Maryland, where the NSA is headquartered. Democrat Dutch Ruppersberger received the most of any House member ($363,600) since 2005, while Democrat Barbara Mikulski was the largest recipient in the Senate, with $210,150.
Ruppersberger, who has gone on record labeling Snowden a traitor to the U.S., is one of the eight top legislators who, on a regular basis, receive highly detailed reports on intelligence matters. Mikulski is chairwoman of the Senate Appropriations Committee, which funds government programs, including those that are intelligence-related.
Monies contributed have been equally divided among the two parties' members on the committees, with $1.86 million going to Republicans and $1.82 million to Democrats.
-Noel Brinkerhoff
To Learn More:
Intel Contractors Give Millions to Lawmakers Overseeing Government Surveillance (by Donny Shaw)
Intelligence Contractors Donate Millions to Intelligence Watchdogs in Congress (by Alexander Cohen, Center for Public Integrity)
This Year, Lockheed Donated to Election Campaigns of 386 of 435 Members of House of Representatives (by Noel Brinkerhoff, AllGov)
Lockheed Comes Out on Top in Pentagon Budget Battle (by Matt Bewig, AllGov)