U.S. Expands Tougher "Dolphin Safe" Tuna Labeling Rules around World
Wednesday, March 23, 2016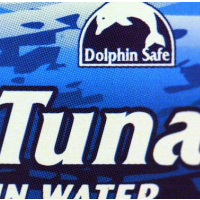 (photo: Tim Boyle, Getty Images)
By Paul Wiseman, AP Economics Writer
WASHINGTON (AP) — The United States, facing sanctions for discriminating against Mexican tuna imports, is expanding tougher rules for labeling tuna '"dolphin-safe" on the rest of the world instead of easing up on Mexico.
Last fall, the World Trade Organization ruled that the United States was unfairly using stricter tracking and verification standards on tuna fishing in the waters from San Diego to Peru, where Mexican fleets operate, than it was imposing on fleets elsewhere. In retaliation, Mexico has been preparing to slap $472 million in tariffs against imports of high fructose corn syrup from the United States.
The U.S. decided against loosening the rules on Mexico, choosing instead a plan that "elevates requirements for tuna product from every other region of the world," U.S. Trade Rep. Michael Froman said in a statement.
The dolphin-safe labels are supposed to ensure that canned, dried and frozen tuna has been caught without endangering dolphins. Schools of tuna tend to gather and swim with some species of dolphins.
Fishermen often have located tuna by tracking dolphins with speedboats and helicopters, then circling them with nets to get at tuna underneath. To earn a 'dolphin-safe' label, tuna must have been caught on a fishing trip that did not involve harming, trapping or killing dolphins.
The new rules will require tuna boats around the world to keep more paperwork and sometimes carry government observers. Captains will also be required to undergo training in dolphin-safe tuna fishing.
"For most of the big fishing boats and companies, it's not a problem," says Mark Palmer, a marine mammal specialist with the Earth Island Institute, an environmental group. "For the smaller fishing boats, it's going to be a fairly steep climb into get everybody into compliance with it. The intent is to maintain the strong standards of the dolphin-safe label."
The Obama administration is lobbying Congress to approve the Trans-Pacific Partnership, a trade agreement with 11 Pacific Rim countries including Mexico. It is seeking to win over skeptics who worry that trade agreements weaken environmental standards.
To Learn More:
World Trade Organization Rules U.S. Cannot Use "Dolphin Safe" Labels for Tuna (by Noel Brinkerhoff, AllGov)
One-Third of Fish Sold as Food are Mislabeled…and Watch out for Sushi Bars (by David Wallechinsky and Noel Brinkerhoff, AllGov)
Obama Administration Orders Foreign Fish Importers to Meet U.S. Dolphin and Whale Protection Standards (by Noel Brinkerhoff, AllGov)
74% of Surveyed L.A. County Seafood Stores and Restaurants Have Mislabeled Fish (by Ken Broder, AllGov California)