World Trade Organization Rules U.S. Cannot Use "Dolphin Safe" Labels for Tuna
Saturday, November 28, 2015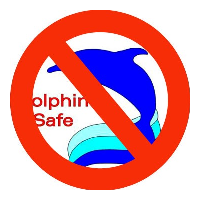 (graphic: Steve Straehley, AllGov)
The U.S. government has been told by the World Trade Organization its "dolphin-safe" labeling program represents an unfair trade practice, putting it at risk of international sanctions.
For 25 years the U.S. has banned imports of tuna caught using methods that harm dolphins, which are commonly found near tuna in the Eastern Pacific Ocean. The "dolphin-safe" labeling assures consumers that that tuna was caught in a manner that does not kill dolphins. Thanks to the import policy and labeling, the number of dolphin deaths related to tuna fishing has gone down 97% since the ban went into effect in 1990, according to the Sierra Club.
But that successful effort is now being threatened by the WTO, which has ruled for the fourth time in four years that the labeling program is unfair to Mexico. The Mexican government fought the labeling since 2008, resulting in WTO decisions against the U.S. in 2011, 2012 and twice this year.
"Unfortunately, today's ruling leaves no more opportunities for the U.S. to appeal," Ben Beachy wrote for the Sierra Club. "It means that the U.S. could face WTO-authorized trade sanctions if we preserve the dolphin-saving label. This decision threatens a commonsense consumer protection, puts dolphins at risk, and opens the door to further trade deal attacks on consumer and environmental safeguards."
-Noel Brinkerhoff
To Learn More:
The WTO Just Dealt a Blow to U.S. Consumers and Dolphins (by Ben Beachy, Sierra Club)
Why U.S. 'Dolphin-Safe' Tuna Isn't (Campaign for Eco-Safe Tuna)
One-Third of Fish Sold as Food are Mislabeled…and Watch out for Sushi Bars (by David Wallechinsky and Noel Brinkerhoff, AllGov)