Obama Administration Orders Foreign Fish Importers to Meet U.S. Dolphin and Whale Protection Standards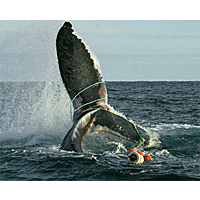 (photo: National Oceanic and Atmospheric Administration/PCCS)
Federal regulators have agreed to adopt new standards that would force overseas fish exporters to be more dolphin and whale friendly when catching fish, if they want to continue selling to American consumers.
Americans eat 5 billion pounds of seafood per year, and about 90% of it is imported from countries that don't protect marine mammals caught in fishing operators' nets from being killed. It is estimated that 650,000 whales, dolphins, and other ocean species die each year as bycatch in commercial fishing gear, such as gill nets and mile-long lines bearing hundreds of baited hooks.
Under the terms of a lawsuit (pdf) settlement, the National Marine Fisheries Service will craft new regulations by June 1 that require foreign fishers to meet the same restrictions imposed on U.S. operators when it comes to avoiding catching whales and dolphins in their nets.
The rules would have to be adopted by August 1, 2016, as part of a deal with the Center for Biological Diversity, the Natural Resources Defense Council, and the Turtle Island Restoration Network, which sued to force the U.S. to act on harmful fish imports.
"The U.S. government agreed to adopt new rules that ensure seafood imported into the United States meets high standards for protecting whales and dolphins," the groups said in a statement. "The long-delayed regulations will require foreign fisheries to meet the same marine mammal protection standards required of U.S. fishermen or be denied import privileges."
The U.S. imports about $30 billion worth of seafood annually. The rule change would impact 122 countries that currently sell fish to American importers. Latin America, India and China are among the biggest of them.
-Noel Brinkerhoff
To Learn More:
Coming to Your Dinner Plate: Dolphin-and-Whale-Safe Seafood (by David Kirby, Takepart)
Feds Agree to Implement Seafood Import Ban to Protect Whales and Dolphins (Center for Biological Diversity)
Center for Biological Diversity v. Penny Pritzker (U.S. Court of International Trade) (pdf)