Germany Emerges as Test Case for Facebook Regulation of Online Hate Speech
Tuesday, November 29, 2016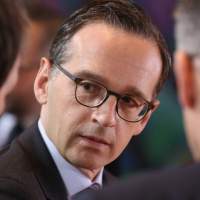 German Justice Minister Heiko Maas (photo: Sean Gallup, Getty)
By Mark Scott and Melissa Eddy, New York Times
BERLIN — On the 78th anniversary of Kristallnacht, the 1938 Nazi pogrom against Jews, a far-right group published a map on Facebook that listed the names — and addresses — of local Jewish institutions and Israeli-owned businesses under the banner "Jews Among Us."
A standoff quickly developed between Facebook and German authorities over what many here said was its inadequate response to the publication of the map. But Germany's rules on what may be said or published — among the world's toughest, with long prison terms for denying the Holocaust and inciting hatred against minorities — ensured that the post was eventually deleted.
The incident is one of several examples of how Germany has become an important test case globally for how the social network polices what may be published online, and how it should respond to inappropriate and illegal content.
Such steps in Germany are part of a growing push around the world to regulate what users are allowed to post online.
Some identified in the map complained. At first, Facebook did not remove the map, saying it complied with the company's "community standards," or guidelines for what it deems within the bounds of free speech.
But within 48 hours, after an outcry on social media, in local newspapers and from German lawmakers, Facebook relented. It deleted the far-right group's entire page, including the post that had listed the Jewish institutions and businesses across Berlin.
"We recognize that this is a work in progress," Richard Allen, Facebook's director of policy in Europe, said in an interview. "It was hate speech, and it should have been taken down."
In Germany, more than almost anywhere else in the West, lawmakers are demanding that Facebook go further to police what is said on the social network. The country's lawmakers also want other U.S. tech giants to meet similar standards.
"Facebook has a certain responsibility to uphold the laws," said Heiko Maas, the German justice minister. In October, Maas suggested the company could be held criminally liable for users' illegal hate speech postings if it does not swiftly remove them.
To Learn More:
Twitter Suspends "Alt-Right" User Accounts in Crackdown on Hate Speech (by Bree Fowler, Associated Press)
A Haven for Online Harassment, Twitter Gives Users More Power to Block and Report Abusive Tweets (by Barbara Ortutay, Associated Press)
Twitter Still Trump's Favorite Tool for Fear Mongering and Character Assassination (by Alexander Burns and Maggie Haberman, New York Times)
Twitter Pulls Plug on 125,000 Extremists' Accounts (by Mike Isaac, New York Times)
Clicking "Like" on Facebook is Free Speech, But Online Hate May Be another Story (by Noel Brinkerhoff, AllGov)