Twitter Pulls Plug on 125,000 Extremists' Accounts
Sunday, February 07, 2016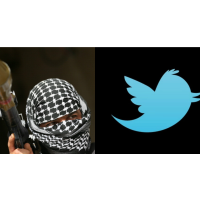 (images: Karim Sahib, Getty Images; Twitter)
By Mike Isaac, New York Times
For years, Twitter has positioned itself as a "global town square" that is open to discourse from all. And for years, extremist groups like the Islamic State have taken advantage of that stance, using Twitter as a place to spread their messages.
Twitter on Friday made clear that it is now stepping up its fight to stem that tide. The social media company said it had suspended 125,000 Twitter accounts associated with extremism since the middle of 2015, the first time it has openly publicized the exact number of accounts it has suspended. Twitter also said it had expanded the teams that review reports of accounts connected to extremism, to remove the accounts more quickly.
"As the nature of the terrorist threat has changed, so has our ongoing work in this area," Twitter said in a statement, adding that it "condemns the use of Twitter to promote terrorism." The company said its collective moves had already produced results, "including an increase in account suspensions and this type of activity shifting off Twitter."
The disclosure follows intensifying pressure on Twitter and other technology companies from the White House, presidential candidates such as Hillary Clinton and government agencies to take more action to combat the digital practices of terrorist groups. The scrutiny has grown after mass shootings in Paris and San Bernardino, California, last year, because of concerns that radicalizations can be accelerated by extremist postings on the Web and social media.
"Twitter works as a way to sell books, as a way to promote movies, and it works as a way to crowdsource terrorism — to sell murder," James B. Comey Jr., director of the FBI, said at a news conference in New York in December.
The number of suspended Twitter accounts related to extremists is a fraction of the total accounts on the service, which has 320 million monthly active users. Still, the 125,000 suspensions stemming from concerns about terrorist activity is significantly higher than previous studies have suggested — one study released by the Brookings Institution last year estimated that between September and December 2014, at least 46,000 Twitter accounts were used by ISIS supporters.
In its blog post Friday, Twitter said violent threats and the promotion of terrorism had long been against its terms of service. For almost three years, Twitter has worked closely with groups that are trying to counter extremist recruitment tactics through positive messaging, the company said.
Still, some lawmakers and technologists have perceived some of the efforts as toothless. In December, The New York Times wrote about the 335th Twitter account of a pro-Islamic State group that calls itself Asawitri Media, which Twitter repeatedly tried to shut down but that popped back up, often with a similar account name.
"Twitter has ramped up its response significantly since June 2014, and again since the Paris attacks, but ISIS has still maintained a notable presence on the platform," said J.M. Berger, a fellow with George Washington University's Program on Extremism and author of books on radical extremist issues. He added that Facebook, the biggest social network, has also "been very aggressive on this issue, about as much as anyone could reasonably expect, but we still see some ISIS activity."
Twitter's disclosure of the number of terrorist account suspensions sets it apart from its social media peers. Facebook regularly discloses the number of government requests it has received for content takedowns on its service, but the company does not break out the removal of terror-related content. YouTube has given more than 200 outside organizations the ability to "flag" potentially harmful content, which YouTube can then review and remove from the service if it deems the content inappropriate.
But these companies must walk a fine line between bearing responsibility for their platforms and avoiding becoming the arbiter of what constitutes free speech. Experts said that content related to extremism, in particular, was difficult to parse outside of acts of extreme violence.
"It's one thing to say you won't accept a beheading video on a site," said Faiza Patel, co-director of the Liberty and National Security Program at New York University's Brennan Center for Justice. "But once you get beyond something that clear, how do you define terrorist content?"
Patel noted that these accounts, left untouched, may be of value to law enforcement officials and scholars trying to study extremist online recruitment methodologies. The question of whether or not to suspend every extremist account immediately, she said, is not so cut and dried.
Twitter acknowledged that the issue remained tricky.
"As an open platform for expression, we have always sought to strike a balance between the enforcement of our own Twitter rules covering prohibited behaviors, the legitimate needs of law enforcement and the ability of users to share their views freely," the company said. "There is no 'magic algorithm' for identifying terrorist content on the Internet, so global online platforms are forced to make challenging judgment calls based on very limited information and guidance."
To Learn More:
Tech Firms Grapple with Protecting Free Speech versus Aiding Feds against ISIS (by Brandon Bailey and Julie Pace, Associated Press)
U.S. Demand for Encrypted Data from Tech Firms Moves from Backdoor Access to Backroom Deals (by Noel Brinkerhoff, AllGov)
Major Tech Firms Continue to Resist U.S. Government Demands for Text and Email Access (by Noel Brinkerhoff and Steve Straehley, AllGov)