Former U.S. Air Force Drone Operators Say Targeted Killings Fuel Terrorism
Monday, November 23, 2015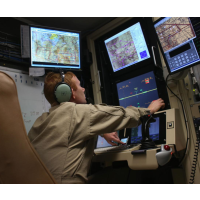 U.S. drone pilot operates Predator UAV from military base in Arizona (photo: John Moore, Getty)
A group of four former U.S. Air Force enlisted men who were part of the American drone program have written a letter to President Obama in which they say their former duties helped drive terrorism.
The men, three of whom were drone operators and another who worked in drone communications, wrote to Obama, Defense Secretary Ashton Carter and Central Intelligence Agency chief John Brennan: "We came to the realization that the innocent civilians we were killing only fueled the feelings of hatred that ignited terrorism and groups like ISIS, while also serving as a fundamental recruitment tool similar to Guantánamo Bay."
The former drone operatives see a link between recent terrorist attacks and the program for which they had worked. "We cannot sit silently by and witness tragedies like the attacks in Paris, knowing the devastating effects the drone program has overseas and at home," they wrote. The killing of innocents in drone strikes has, they say, served as one of the most "devastating driving forces for terrorism and destabilization around the world."
The signatories are, according to The Guardian, Brandon Bryant, who served in the 15th Reconnaissance Squadron and 3rd Special Operations Squadron (pdf) from 2005 to 2011; Michael Haas, who served in the same squadrons during the same period; Stephen Lewis, who was with the 3rd Special Operations Squadron between 2005 and 2010; and Cian Westmoreland, a technician responsible for the program's communications infrastructure who served with the 606 Air Control Squadron in Germany and the 73rd Expeditionary Air Control Squadron in Kandahar, Afghanistan.
The men are aware that by speaking out, they are making themselves vulnerable to possible prosecution by the federal government, according to Jesselyn Radack, director of national security and human rights at the nonprofit ExposeFacts, who serves as their legal representative.
Bryant was among those who helped track Anwar al-Awlaki, the American al-Qaeda member who was killed in a 2011 drone attack. Bryant told The Guardian that he had been made to violate his military oath by being assigned to a mission that killed a fellow American. "We were told that al-Awlaki deserved to die, he deserved to be killed as a traitor, but article 3 of section 2 of the U.S. Constitution states that even a traitor deserves a fair trial in front of a jury of his peers."
Obama continues to increase the number of drone strikes, the number of which are expected to grow by 50% as of 2019, according to The Guardian. The increase may partially serve as an alternative to moving more troops into Syria to fight ISIS. "Part of the reason is that every few months I go to Walter Reed [military hospital] and I see a 25-year-old kid who is paralyzed or has lost his limbs, and some of those are people who I have ordered into battle," the president said at the G20 summit in Turkey.
But the letter's authors say the drone program has consequences as well. "Right now it seems politically expedient," Westmoreland told The Guardian. "But in the long term the bad side of a Hellfire missile and drones buzzing overhead is the only thing that a lot of these people know of the United States or Britain."
-Steve Straehley
To Learn More:
Obama's Drone War a 'Recruitment Tool' for Isis, Say U.S. Air Force Whistleblowers (by Ed Pilkington and Ewen MacAskill, The Guardian)
Letter to President Obama, et al, from Air Force Service Members
Most Victims of U.S. Drone Targeted Killing Program Aren't the Targets (by Noel Brinkerhoff, AllGov)
Senate Debate: Are Drone Attacks Creating More Enemies than They Kill? (by Noel Brinkerhoff, AllGov)