Most Victims of U.S. Drone Targeted Killing Program Aren't the Targets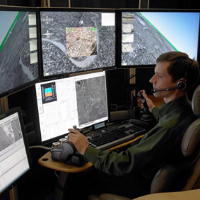 A U.S. drone control center (photo: Raytheon)
A major exposé on the Obama administration's drone program, based on a trove of classified documents, has revealed that the targeting of American threats resulted mostly in killing civilians.
The Intercept's investigation, "The Drone Papers," reported that over the course of one 13-month period, U.S. drone strikes in northeastern Afghanistan killed more than 200 people—but only 35 of them were the intended targets. It also was revealed that during a five-month period, nearly 90% of the people killed were not the intended targets.
"These eye-opening disclosures make a mockery of U.S. government claims that its lethal force operations are based on reliable intelligence and limited to lawful targets," Hina Shamsi, director of the American Civil Liberties Union's National Security Project, said in a statement, according to Politico. "In fact, the government often claims successes that are really tragic losses. The Obama administration's lethal program desperately needs transparency and accountability because it is undermining the right to life and national security."
Mother Jones noted "the documents suggest the situation could be worse in Yemen and Somalia, where there are less U.S. special operations teams on the ground to verify kills and targets."
The Intercept obtained volumes of classified records from an unnamed whistleblower who objected to what the administration was doing with drones.
"This outrageous explosion of watchlisting—of monitoring people and racking and stacking them on lists, assigning them numbers, assigning them 'baseball cards,' assigning them death sentences without notice, on a worldwide battlefield—it was, from the very first instance, wrong," the whistleblower said.
A leading human rights group, Amnesty International, has called on Congress to investigate the drone program. It says the documents "raise serious concerns about whether the USA has systematically violated international law, including by classifying unidentified people as 'combatants' to justify their killings."
-Noel Brinkerhoff
To Learn More:
A Massive National Security Leak Just Blew the Lid off Obama's Drone War (by AJ Vicens and Max J. Rosenthal, Mother Jones)
The Intercept Publishes Secret Military Documents on Drone Killings (by Nick Gass, Politico)
The Drone Papers (The Intercept)
Secret Pakistan Report Documents High Civilian Death Toll from U.S. Drone Strikes (by Danny Biederman and Noel Brinkerhoff, AllGov)
Report Claims Drones more likely to Kill Civilians than Manned Aircraft (by Noel Brinkerhoff, AllGov)