Cubans Return U.S. Hellfire Training Missile Mistakenly sent by Lockheed
Tuesday, February 16, 2016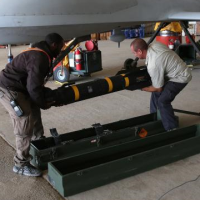 Getting ready to ship off a Hellfire missile (photo: John Moore, Getty Images)
By Bradley Klapper, Associated Press
WASHINGTON (AP) — Cuba has returned a dummy U.S. Hellfire missile that was mistakenly shipped there from Europe in 2014, American and Cuban officials said Saturday.
The Hellfire is a laser-guided, air-to-surface missile that weighs about 100 pounds. Manufactured by Lockheed Martin, it can be deployed from an attack helicopter like the Apache or an unmanned drone like the Predator.
The weapon returned by Cuba was an inert training missile that was inadvertently sent to the island from Europe, where it was used in a NATO training exercise.
It didn't contain explosives, but the device's diversion raised concerns that Cuba could share technology with potential U.S. adversaries like North Korea or Russia. It had an incomplete guidance section and no operational seeker head, warhead, fusing system or rocket motor.
"The inert training missile has been returned with the cooperation of the Cuban government," State Department spokesman Mark Toner said. He declined to elaborate, but he credited July's re-establishment of diplomatic relations between the Cold War foes for allowing Washington to engage Havana "on issues of mutual interest."
U.S. officials had been trying to recoup the missile for several months. The shipping error was attributed to Lockheed's freight forwarders, but the U.S. said last month it was working with the weapons manufacturer to get the missile back.
In a statement, the Cuban government confirmed the return of the missile and said that customs inspectors had discovered it while conducting a routine inspection of cargo that had arrived on a flight from Paris.
The government statement said the missile had come to Cuba as a result of "error or mishandling" in its country of origin. "For Cuban authorities, the arrival in the country of U.S.-made military equipment that hadn't been declared as such on the cargo manifesto was worrying," the government said.
The equipment was "duly conserved and taken care of" and once the U.S. government officially informed Cuba that the missile had been shipped there by mistake and the U.S. wanted to recover it, Cuba began proceedings to return the missile, the government said.
A team of U.S. experts traveled to Cuba to inspect the missile and brought it back to the U.S. on Saturday, the government said.
"Cuba acted with seriousness and transparency and cooperated in order to find a satisfactory solution to this situation," the government said in its statement.
Associated Press writer Michael Weissenstein in Havana contributed to this report.
To Learn More:
U.S. Loses Track of $500 Million Worth of Weapons in Yemen, Including Drones, Helicopters and 1.2 Million Rounds of Ammo (by Noel Brinkerhoff, AllGov)
Military Weapons Given to Police have Gone Missing (by Steve Straehley, AllGov)
Thousands of U.S. Weapons Provided to Afghan Forces Are Unaccounted For (by Noel Brinkerhoff, AllGov)
Sloppy Oversight of Classified Nuclear Weapons Drawings and Parts (by Noel Brinkerhoff, AllGov)
U.S.-Led Military Unit in Afghanistan Lost $230 Million in Spare Parts, Then Spent $138 Million for More (by Noel Brinkerhoff, AllGov)
Joint U.S.-Cuba Military Exercise (by Noel Brinkerhoff, AllGov)