U.S.-Led Military Unit in Afghanistan Lost $230 Million in Spare Parts, Then Spent $138 Million for More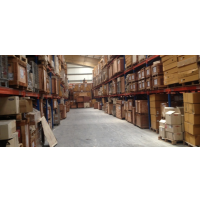 Non-inventoried military spare parts in Afghanistan (photo Pier Paolo City, AP)
The Pentagon is notorious for wasting money when it comes to purchasing spare parts for the American war machine. But it seems the U.S. military managed to export this bad practice to Afghanistan, where hundreds of millions in tax dollars were lost on purchases for the Afghan National Army.
In the nation where the U.S. has been fighting for a dozen years now, an American-led, multi-national military office called the Combined Security Transition Command-Afghanistan (CSTC-A) spent $370 million from 2004 through the middle of this year on spare parts for Afghan army vehicles. But nearly two-thirds of this money (about $230 million) essentially got flushed because no one could account for how it was spent, according to the Special Inspector General for Afghanistan Reconstruction (SIGAR).
But the financial miscues didn't stop there.
The office in question blew another $138 million on spare parts to cover shortages—without first determining whether the parts were really needed.
The U.S. expected the Afghans to keep records of its inventory, but they did a shoddy job.
"CSTC-A officials…had no historical demand and usage data from the [Afghan Army] or contractors to support their $130 million in parts orders," SIGAR said in its report (pdf). The Afghan Army also couldn't say for sure if it received all the parts that were ordered.
Meanwhile, CSTC-A is still operating the same way. The situation may get even worse once the U.S. turns the office over to the Afghans to run it themselves.
-Noel Brinkerhoff
To Learn More:
Exporting Mismanagement to Afghanistan (by R. Jeffrey Smith, Center for Public Integrity)
Afghan National Army: Combined Security Transition Command-Afghanistan Lacks Key Information on Inventory in Stock and Requirements for Vehicle Spare Parts (Special Inspector General for Afghanistan Reconstruction) (pdf)
Pentagon Spent $900 Million for Obsolete Fighter Vehicle Spare Parts (by Noel Brinkerhoff, AllGov)
U.S. Can't Account for $200 Million in NATO Gas Receipts for Afghan Army Fuel (by Noel Brinkerhoff, AllGov)