Drones Now Account for One-Quarter of U.S. Strikes in Afghanistan
Thursday, December 06, 2012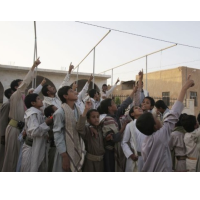 Children in Yemen look for drones (photo: Reuters)
Aerial drones continue to play a growing role in the U.S. military campaign in Afghanistan. Attacks from unmanned aircraft now account for more than 25% of all missions launched by the United States and its allies fighting the Taliban and al-Qaeda, according to The Bureau of Investigative Journalism.
The total number of drone sorties has more than doubled over the past four years, from 3,240 in 2008 to 7,612 in 2012.
Drone strikes in Afghanistan are now occurring on average about five times a week.
The Bureau of Investigative Journalism also reported that 1,168 armed drone strikes, which the Pentagon refers to as "kinetic events," were launched during the last five years in Afghanistan, Libya and Iraq combined. Meanwhile, the CIA has launched 338 drone attacks in Pakistan.
Although the United Kingdom releases the details of non-combatants killed by its drone strikes, the United States does not.
-Noel Brinkerhoff
To Learn More:
Revealed: US and Britain launched 1,200 drone strikes in recent wars (by Chris Woods and Alice K Ross, Bureau of Investigative Journalism)
Combined Forces Air Component Commander 2007-2012 Airpower Statistics, Afghanistan (pdf) (Bureau of Investigative Journalism)
Remember the War in Afghanistan? U.S. Still has 68,000 Troops There and Averages One Drone Attack a Day (by Noel Brinkerhoff and David Wallechinsky, AllGov)
Has U.S. Expanded Drone Use from Fighting anti-American Terrorists to Targeting Opponents of Friendly Foreign Governments? (by Matt Bewig, AllGov)