Battle Rages Over $100 Million Worth of Middle East Oil Sitting Off Coast of Texas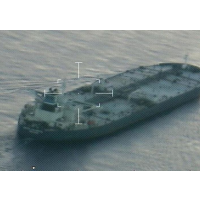 Kurdish oil tanker approaching Galveston, Texas.(photo: U.S. Coast Guard)
A tanker loaded with Iraqi oil has been sitting off the coast of Texas, a floating pawn in an international game of chess, intrigue and subterfuge involving the government of Iraq, the U.S. State Department and federal court system, and the semi-autonomous region of Kurdistan inside Iraq.
The tanker, United Kalavrvta, carrying more than one million barrels of crude oil, has avoided U.S. territorial waters, having anchored about 60 miles off Galveston. It has so far refused to dock, given the risk of being seized by order of a federal judge, who has wavered in her ruling in a case initiated by Baghdad.
The Iraqi government claims Kurds stole the oil from northern Iraq for the purpose of financing its ambitions of breaking away from the country. It alleges that Kurdistan then covertly sent the crude through an oil pipeline to Turkey. Learning of this, Baghdad officials ordered Turkish pipeline operators to secure the oil, but the operators instead acceded to the demands of the Kurdish government to load it onto the ship bound for the U.S., apparently with the intent to sell it to American oil firms. Halfway en route to its destination in Georgia, the tanker changed course to Galveston.
Baghdad officials filed a claim in U.S. federal court, leading to Magistrate Judge Nancy Johnson—with a nod from the State Department—ordering U.S. marshals to take control of the vessel for the Iraq government if it docks in a Texas port.
"Either they'll bring the oil into port, where we'll take possession of it, or they'll sail off somewhere else," Phillip Dye Jr., the Iraqi Oil Ministry's American lawyer, told Bloomberg.
However, within hours of her ruling (pdf), Johnson revised her decision and announced that her order could not be enforced, explaining that she lacked jurisdiction given the ship's distance from the Texas shore. Her reversal could have been influenced by word from the State Department and the U.S. Marshals Service that the court order was only valid if the tanker entered U.S. territory.
Although the State Department hasn't forbidden U.S. oil companies from purchasing oil from Kurdistan, it has publicly opposed any such deals, believing they would contribute to Iraq's break-up.
The Kurdish government said that Johnson's original ruling would have negative consequences for its future efforts to market its oil. "Buyers now will start to step back and think twice before purchasing Kurdish crude," a Kurdish official said, according to Reuters.
Johnson recommended that the dispute now be settled in Iraq.
- Danny Biederman, Noel Brinkerhoff
To Learn More:
Iraq Fights Kurds Over Crude in Texas Tanker Battle (by Laurel Calkins, Bloomberg)
U.S Judge Says Cannot Seize Kurdish Crude for Now (by Anna Driver and Ahmed Rasheed, Reuters)
U.S. Lets Iraq Seize Kurdish Oil Near Texas (by Cameron Langford, Courthouse News Service)
Ministry of Oil v. 1,032,212 Barrels of Crude Oil (U.S. District Court, Southern Texas, Galveston) (pdf)
Promised Spoils of U.S. War in Iraq—Its Oil—Go to China (by Noel Brinkerhoff and Danny Biederman, AllGov)
The Battle for Iraq's Oil Contracts (by Noel Brinkerhoff, AllGov)