VA Records Show Veteran Rescheduled Appointment after he Died
Friday, September 26, 2014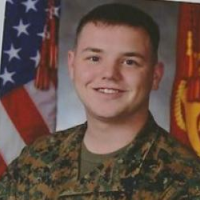 Jordan Buisman (AP photo, KARE-TV)
Either the Department of Veterans Affairs (VA) has again demonstrated some shady recordkeeping or it has a zombie problem on its hands. According to VA records, a former Marine rescheduled his medical appointment four days after he died.
Jordan Buisman, 25, was in the Marine Corps until epilepsy forced him to leave the service. He requested an appointment to see a neurologist at a Minneapolis clinic in October 2012, only to be told the system couldn't get him in for more than two months. VA policy says the wait to see a specialist should be no more than 14 days.
Buisman wound up dying of seizure disorder, the condition for which he sought VA treatment, 24 days before the appointment. Then, somehow, he canceled his appointment and asked that it be rescheduled … four days after he died, according to the VA's records.
Whistleblowers told KARE-TV that appointments were commonly canceled without patients' knowledge or consent at the Minneapolis facility. Letty Alonso told KARE that she was instructed to cancel appointments without telling patients the appointments existed. "Let's say right now you had a positive polyp, I would turn around and sometimes instructed by manager say, 'Notified patient, patient didn't want further treatment,'" Alonso said. "The reality was the patient has not even been notified of the appointment."
Minnesota Senator Al Franken (D) was critical of the reports. "I'm extremely troubled to hear reports that Jordan Buisman passed away while waiting for care through the VA and that records may have been doctored. This is an unacceptable tragedy," he said in a statement.
"As I said months ago, I strongly believe that the problems identified at the VA facilities in Minnesota need to be investigated, and I plan to press both the VA Inspector General and the Department of Justice to include this terrible tragedy in their investigations. The men and women who join the military risk their lives to serve our country; they shouldn't have to risk their lives waiting for an appointment at the VA," he added.
-Noel Brinkerhoff
To Learn More:
Questionable Records Show Veteran Rescheduled VA Appointment after Death (by Josh Hicks, Washington Post)
VA Records Show Vet Rescheduled Appointment after Death (by A.J. Lagoe and
Steve Eckert, KARE)
VA Official Says Delays Did Lead to Deaths at Phoenix Medical Center (by Steve Straehley, AllGov)
VA Internal Report Confirms False Reports by Phoenix Office (by Noel Brinkerhoff and Danny Biederman, AllGov)