VA Internal Report Confirms False Reports by Phoenix Office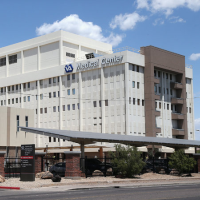 VA Medical Center in Phoenix, Arizona (photo: Christian Petersen, Getty Images)
Bolstering allegations that have rocked the Department of Veterans Affairs (VA) with scandal, a "scathing" new report from the agency's inspector general (IG) concluded that a Veterans Affairs hospital in Phoenix generated falsified data to hide treatment delays for veterans seeking medical care.
The report also disclosed that the Phoenix VA Health Care System failed to put at least 1,700 patients on the official waiting list for doctors' appointments, and that those individuals may never have received care, according to The New York Times.
No other federal agency in Washington, DC, is in hotter water right now than the VA, with government auditors, Republican and Democratic lawmakers and even the White House leveling criticism over reports of falsifying records to conceal lengthy medical delays involving veterans.
For more than a week, accusations have engulfed VA hospitals and clinics over making veterans wait months to see a doctor and attempting to cover up the problem.
This week, the troubled agency was slammed again by its own inspector general's
report (pdf), which called the matter a "systemic problem nationwide." The audit also reinforced claims by VA whistleblowers that clinics covered up treatment delays so employees would still receive bonuses and raises.
Furthermore, the average waiting time in Phoenix for initial appointments was 115 days, which was nearly five times longer than what hospital administrators claimed.
And if that wasn't enough trouble, critics have accused the VA of maintaining secret lists to track how many veterans were waiting for medical care. In some instances, workers created phony appointment cancellations and rescheduled visits in an effort to hide the fact that patients were waiting and waiting to see a doctor.
The IG's findings were called "troubling" by the White House, which so far is standing behind VA Secretary Eric Shinseki.
Lawmakers on Capitol Hill have not been as patient, with Republicans and Democrats demanding changes with the VA healthcare system, including new leadership at the very top of the organization.
The IG report did not address the allegations that 40 veterans who were never placed on the Phoenix hospital's doctor appointments list had died while waiting for medical care. Further investigation is required to make a determination about that claim, as well as about charges of sexual harassment and bullying at the facility.
-Noel Brinkerhoff, Danny Biederman
To Learn More:
Three Takeaways from Wednesday's VA Hearing after 'Troubling' Report (by Josh Hicks, Washington Post)
Severe Report Finds V.A. Hid Waiting Lists at Hospitals (by Richard Oppel Jr. and Michael Shear, New York Times)
'Serious Conditions' at Phoenix Veterans Affairs Office, Watchdog Says (by Ben Kesling, Wall Street Journal)
Review of Patient Wait Times, Scheduling Practices, and Alleged Patient Deaths at the Phoenix Health Care System (Department of Veterans Affairs, Inspector General) (pdf)
To Quell Scandal, VA Announces Forced Retirement of Official…Who Actually Announced his Planned Retirement 8 Months Ago (by Noel Brinkerhoff, AllGov)
Who Earned the Highest Customer Satisfaction Survey? The VA Cemeteries (by Noel Brinkerhoff, AllGov)