VA Official Says Delays Did Lead to Deaths at Phoenix Medical Center
Sunday, September 21, 2014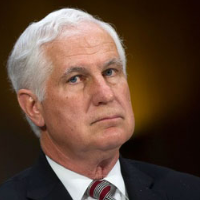 Veterans Affairs Acting Inspector General Richard Griffin (photo: Cliff Owens, AP)
A member of the Veterans Affairs inspector general's office admitted to a congressional committee on Wednesday that delays in care at the VA Medical Center in Phoenix did lead to the deaths of patients.
When asked by Rep. David Jolly (R-Florida) if the waiting lists led to patient deaths, Dr. John D. Daigh, the assistant inspector general for health care inspections, said: "No problem with that. The issue is cause," according to The New York Times. Daigh didn't say how many deaths had been attributed to the long waits for care, but a VA report last month said 28 patients had experienced "clinically significant" delays in care, including six patients who died. That report did not connect the dots between the delays in care and the deaths, however.
Acting VA Inspector General Richard Griffin stood by the report, while saying its wording allowed for the possibility that care delays caused the deaths. "A careful reading would show that in some of those cases, we say that they might have lived longer," Griffin said. Jolly pushed Griffin, asking specifically if the delays contributed to veterans' deaths. "It could have," Griffin replied.
The admission could make it a bit easier for those who have filed suit against the VA for the deaths, particularly for cases that don't go to trial, according to Heath Druzin of Stars & Stripes.
The Phoenix VA center has been accused of cooking its books to make their waiting lists for care appear to be shorter than they really are. Former VA physician Dr. Sam Foote told the Arizona Republic that patients "were deliberately being held off the lists" to make the waits appear to be shorter. He said thousands of patients were forced to wait as much as a year to see overbooked primary care physicians. "The backlog has gone up," Foote said, "but it's all about appearances. If you're delaying care for these people, you're going to kill some of them."
The VA has begun efforts to deal with the long waits for care. On Wednesday, they approved salary increases for physicians and dentists in the hope of attracting and retaining more health care professionals.
-Steve Straehley
To Learn More:
VA Official Acknowledges Link Between Delays and Patient Deaths (by Richard A. Oppel Jr., New York Times)
Debate Over Veteran Deaths Could Affect VA claims (by Heath Druzin, Stars & Stripes)
Deaths at Phoenix VA Hospital May Be Tied To Delayed Care (by Dennis Wagner, Arizona Republic)
For all the Problems at the VA, Veterans less Likely to feel Stress than Civilians (by Steve Straehley, AllGov)
VA Internal Report Confirms False Reports by Phoenix Office (by Noel Brinkerhoff and Danny Biederman, AllGov)