Judge Reveals Hidden Talent as Poet by Writing Court Ruling in Verse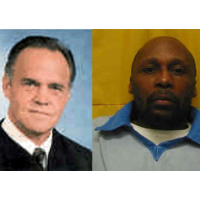 Judge David Cain, Darek Lathan (photo: Franklin County Courts/Ohio Dept of Rehabilitation and Corrections)
By Kim Palmer
CLEVELAND (Reuters) - A judge in Columbus wrote a poem to let a prisoner suing an Ohio penitentiary for "emotional distress" know that his lawsuit was being denied and read it in court.
Franklin County Common Pleas Judge David E. Cain, 72, dismissed Darek Lathan's lawsuit seeking $2 million in damages over a denied bathroom break.
Lathan, an inmate at the Correctional Reception Center in Orient near Columbus, filed three civil lawsuits against the prison in October. The case before Cain involved an accident Lathan had when a guard did not let him leave a line to use the bathroom.
Lathan was sentenced in January 2015 to 17 months in prison after pleading guilty to felony vandalism.
Cain's poem explained what occurred and his rejection of Lathan's argument:
Cold showers caused his bowels to malfunction
Or so the plaintiff claims
A strict uncaring prison guard
Is whom the plaintiff blames.
While in line for recreation
And little time for hesitation
His anal sphincter just exploded
The plaintiff's britches quickly loaded.
It made the inmates laugh and play
To see the plaintiff's pants this way
The foul, unsightly, putrid mess
Caused the plaintiff major stress.
Claiming loss and shame to boot
The plaintiff filed the present suit
But the law provideth no relief
From such unmitigated grief.
Neither runs nor constipation
Can justify this litigation
Whether bowels constrict or flex
De minimus non curat lex.
The last line translates as "the law takes no account of trifles," the judge said.
Author and humorist Sean Carter, who practiced law for 10 years, said the poem was a bit graphic and the humor may have been better used in a corporate security lawsuit, but the poem did not affect the legality of the decision.
"There is no grounds for appeal because a judge is silly," Carter said, adding, "You would not want to read this opinion over lunch."
The judge said Lathan's lawsuit was filed incorrectly and was in the wrong court. "This was even more frivolous than we are used to seeing so I thought I would have a little fun with it," Cain said on Friday.
This is the first time the judge, who has been on the bench for 30 years, has used rhyme for a legal decision, but the former newspaper reporter wrote song parodies for press events in the 1970s.
Cain said the poem added a little levity to what is normally a serious job. "It was a change from going into a courtroom and hearing about wrecks, rapes and robberies," he said.
As of Friday, Lathan's three personal injury lawsuits filed in Franklin County Court had been dismissed.
To Learn More:
Forcing 6,000 Employees to Clock Out for Bathroom Breaks Costs Pennsylvania Company $1.75 Million (Associated Press)
Do Not Laugh When a Judge Sentences You (by Noel Brinkerhoff, AllGov)
Texas Judge Accused of Misconduct for Ordering Defendant to Copy Bible Verses and Marry his Girlfriend (by Noel Brinkerhoff, AllGov)