Texas Judge Accused of Misconduct for Ordering Defendant to Copy Bible Verses and Marry his Girlfriend
Saturday, August 22, 2015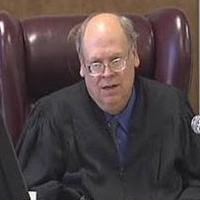 Judge Randall Rogers (photo: YouTube)
Judge Randall Rogers of Smith County, Texas, is facing an ethics complaint of misconduct for ordering a man to marry his girlfriend and write down a Bible verse 25 times a day.
The alternative for the defendant, Josten Bundy, was 15 days in jail. Bundy, 19, got into trouble for punching the ex-boyfriend of his girlfriend, Elizabeth Jaynes, after he insulted her, according to Bundy.
Admitting what he had done was wrong, Bundy was put on probation by Rogers. But the judge went a step further. He also ordered Bundy to copy Proverbs 26:26: "If a man digs a pit, he will fall into it." Rogers also required Bundy to marry Jaynes within 30 days as a condition of his probation. Otherwise, the deal was off, and Bundy would spend 15 days behind bars. Bundy chose probation and its conditions because he was afraid he'd lose his job if he missed work.
Although the couple had planned to get married, they were upset that they were forced to rush into it. "It just felt like we weren't going to be able to have the wedding we wanted," Jaynes told KLTV. "It was just going to be kind of pieced together; I didn't even have a white dress."
Rogers' actions caught the attention of the Freedom From Religion Foundation. The group filed an ethics complaint against the judge accusing him of illegal conduct for which "he should face serious consequences."
"Judges cannot require people to get married or force them to write Bible verses," foundation attorney Sam Grover said, according to Courthouse News Service. "His actions demonstrate a religious bias with significant implications for any nonreligious or non-Christian litigants appearing before him."
-Noel Brinkerhoff
To Learn More:
Judge Sentences East Texas Man To Get Married Or Face Jail Time (by Julia Jenaé, KLTV)
Ethics Complaint Against Religious Judge (by David Lee, Courthouse News Service)
Judge Who Sentenced Man To Marry His Girlfriend Recuses Himself From Case (KLTV)
Judge Says Man Can Either Get Married Or Go To Jail (by David Lohr and Simon McCormack, Huffington Post)