Do Not Laugh When a Judge Sentences You
Saturday, October 31, 2015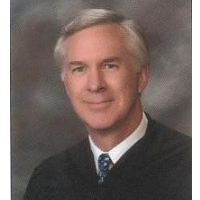 Judge Lawrence J. O'Neill (photo: U.S. District Court)
Ramon Ochoa probably isn't laughing now.
Ochoa, who had previously served about six years for firearms possession by a felon, got into trouble with his probation officer, which resulted in Ochoa being back inside a Fresno courtroom.
Standing before U.S. District Judge Lawrence O'Neill, Ochoa received a one-year sentence for violating his probation after he mouthed off at the staff of the halfway house.
Ochoa's mouth got him into more hot water when he laughed at O'Neill's sentence, saying, "Anything else?"
"Well, you just talked yourself into more time," O'Neill replied. The judge doubled Ochoa's sentence to two years for laughing at the court.
Ochoa's lawyer appealed the sentence, claiming O'Neill exceeded his authority in changing the punishment. But the Ninth Circuit Court of Appeals in San Francisco disagreed in a 2-1 ruling, which said a sentence is not final until there is a "formal break in the proceedings," meaning when the hearing ends.
-Noel Brinkerhoff
To Learn More:
Ninth Circuit Upholds Laughing Felon Sentence (by Rose Bouboushian, Courthouse News Service)
Judge's Doubling of Laughing Defendant's Prison Time Upheld (by Bob Egelko, San Francisco Chronicle)
Texas Judge Accused of Misconduct for Ordering Defendant to Copy Bible Verses and Marry his Girlfriend (by Noel Brinkerhoff, AllGov)
Most Unpopular Judges in the United States (by Noel Brinkerhoff and David Wallechinsky, AllGov)