Forcing 6,000 Employees to Clock Out for Bathroom Breaks Costs Pennsylvania Company $1.75 Million
Thursday, January 07, 2016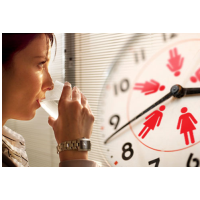 (photo: Getty)
PHILADELPHIA (AP) — A Pennsylvania company that publishes business newsletters will pay about $1.75 million to thousands of employees who had to clock out while going on short breaks, including for the bathroom.
A federal judge has given the U.S. Department of Labor and the Malvern-based company, American Future Systems Inc., until Thursday to submit proposals on how to manage the payment process, The Philadelphia Inquirer reported (http://bit.ly/1Jr39Tc).
The bill includes back pay and damages to 6,000 employees who worked at offices in Pennsylvania, New Jersey and Ohio between July 2009 and July 2013.
The Department of Labor filed a lawsuit in November 2012, claiming the company violated the federal Fair Labor Standards Act because employees weren't earning the minimum wage— $7.25 per hour —when the company required them to clock out for breaks.
"No worker should have to face the choice: Do I take a bathroom break, or do I get paid?" said Adam Welsh, an attorney at the U.S. Department of Labor's Philadelphia office.
The law doesn't require companies to give workers personal breaks. But if it does offer breaks, it must pay workers for them.
The company issued the written policy in July 2009, saying that workers could take breaks "at any time" but those breaks wouldn't be paid. It had argued that federal law didn't require it to pay employees for short breaks because employees were completely relieved from duty and could do what they wanted during that time.
A judge ruled against the company on Dec. 16, citing Labor Department regulations.
The company's lawyer declined to comment.