Federal Agents Crack Down on Chinese Birth Tourism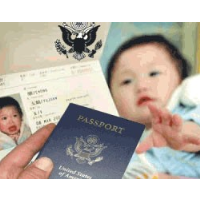 (photo: Rushpassport.com)
Immigration and Customs Enforcement (ICE) agents conducted sweeping raids across Southern California this week in an effort to shut down birth tourism businesses in which foreign residents pay to stay in the United States to have children who will then automatically be U.S. citizens.
These "maternity hotels" or "birthing centers" have charged nearly $40,000 per expecting mom to help guide them through U.S. rules and procedures, which include advice on which city airports to target (Las Vegas over Los Angeles, for example) and where to stay while they wait to deliver their baby. As many as 40,000 children are born in the U.S. each year as a result of such arrangements.
Companies like You Win USA—which were among 37 locations raided by ICE agents, the largest federal investigation of its kind—have largely focused their efforts on members of China's middle class. However, birth tourism also has marketed in Taiwan, South Korea and Turkey.
Agents conducting the raids, which focused on apartment complexes in Los Angeles, Orange and San Bernardino counties, were searching for evidence of visa fraud, conspiracy and other crimes related helping women fabricate documents for visa applications and lying to federal officials, according to the Los Angeles Times.
Although women are paying plenty of money to the birth tourism organizers, little of it goes to the hospitals where they're giving birth. Many pay a reduced rate given to uninsured patients after spending thousands on trips to Las Vegas before giving birth.
-Noel Brinkerhoff
To Learn More:
'Maternity Tourism' Raids Target California Operations Catering To Chinese (by Victoria Kim and Frank Shyong, Los Angeles Times)
California Apartments Raided in Federal Investigation of Chinese 'Birth Tourism' (by Tamar Lewin, New York Times)
Southern California a Hub for Birthing Tourism (by Ken Broder, AllGov California)