World Scientists Call for Moratorium, but No Ban, on Inheritable Gene Editing of Humans
Monday, December 07, 2015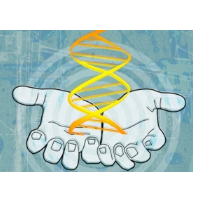 (graphic: Getty Images)
A convocation of scientists last week tapped the brakes on efforts to perform gene editing on humans, but didn't totally ban for good the concept of designer babies.
The organizing committee for the International Summit on Human Gene Editing, a gathering of several hundred scientists and ethicists last week in Washington, urged a moratorium on gene editing in what's called the germline—eggs, sperm and embryos—of humans until more research can be done on its effects.
Unlike gene therapy, which is currently practiced for some medical conditions, gene editing actually transforms the DNA of its subject and those changes are passed down to subsequent generations and thus affect the world's gene pool, potentially altering the very nature of the human species. "The human genome is shared among all nations," David Baltimore, a Nobel Prize-winning biologist at the California Institute of Technology, said according to MIT Technology Review. "These criteria have not been met for any proposed clinical use."
In spite of the committee's recommendation to press the pause button on actual gene editing, it endorsed the continuation of laboratory research to perfect the editing technique, including the manipulation of human cells. "The modified cells should not be used to try to establish a pregnancy," cautioned Baltimore. "That is the important statement for the present."
The scientists have no legal authority, but pronouncements such as this are usually adhered to by their colleagues. What's most likely to keep the prohibition in effect is that there's not now any pressing need for gene editing in humans. The conditions it could cure are rare and often able to be treated by other means. But although some scientists would like to see such techniques totally banned—wanting to avoid the breeding of designer humans—others want to keep the door open for future research.
"Everything I've learned here says we're not ready to be doing this yet, and that we have to perfect the technologies and get a better consensus," Baltimore said after the conference, according to The New York Times. "But I certainly don't want to close down any avenues of research. The door is open but we don't want to make any decisions now."
In addition to the U.S., the scientific communities in China and the United Kingdom have been making the greatest efforts in this field. Scientists in China were the first to experiment with the altering of human embryos. In Germany, gene editing is against the law, punishable by jail time.
-Steve Straehley
To Learn More:
Scientists on Gene-Edited Babies: It's 'Irresponsible' For Now (by Antonio Regalado, MIT Technology Review)
Scientists Seek Moratorium on Edits to Human Genome That Could Be Inherited (by Nicholas Wade, New York Times)
International Gene Editing Conference Declines to Ban Eventual Use in Humans (by Melissa Healy, Los Angeles Times)
Humans Mold Animals at Will: Gene Editing Hits Full Throttle (by Steve Straehley and Danny Biederman, AllGov)
Chinese Scientists Cause Alarm after Announcing Editing of Human Genes (by Noel Brinkerhoff, AllGov)