Chinese Scientists Cause Alarm after Announcing Editing of Human Genes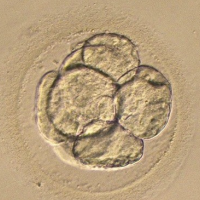 Human embryo (photo: Press Association via AP)
Researchers in China generated significant debate in scientific and ethical circles when they announced that they had edited human genes contained in embryos. But the experiment proved far from successful, the scientists admitted.
In a study published by the online journal Protein & Cell, the Chinese team led by Junjiu Huang, a gene-function researcher at Sun Yat-sen University in Guangzhou, said they modified the gene responsible for a fatal blood disease (β-thalassaemia) using a gene-editing technique known as CRISPR/Cas9. They used non-viable embryos from a fertility clinic, but ethical concerns remained.
George Daley, a stem-cell biologist at Harvard Medical School, said the work was the first of its kind. "I believe this is the first report of CRISPR/Cas9 applied to human pre-implantation embryos and as such the study is a landmark, as well as a cautionary tale," Daley told Nature. "Their study should be a stern warning to any practitioner who thinks the technology is ready for testing to eradicate disease genes."
Those opposing the editing of human genes say the changes can be passed to later generations and have an unpredictable effect on those populations. There is also concern about dangerous or unethical applications of the technique. Two journals, Nature and Science, rejected the paper because of ethical concerns, Huang said.
Even the Chinese admitted that the gene modification did not go as well as they would have liked. They changed the genetic material of 86 embryos, of which 71 survived. But upon testing those that did survive, the scientists found only 28 "were successfully spliced, and that only a fraction of those contained the replacement genetic material," David Cyranoski and Sara Reardon reported at Nature.
Huang said his team stopped their work because the splicing proved "too immature."
"If you want to do it in normal embryos, you need to be close to 100%," he said.
-Noel Brinkerhoff
To Learn More:
Chinese Scientists Genetically Modify Human Embryos (by David Cyranoski and Sara Reardon, Nature)
CRISPR/Cas9-Mediated Gene Editing in Human Tripronuclear Zygotes (by Puping Liang, Yanwen Xu, Xiya Zhang, Chenhui Ding, Rui Huang, Zhen Zhang, Jie Lv, Xiaowei Xie, Yuxi Chen, Yujing Li, Ying Sun, Yaofu Bai, Zhou Songyang, Wenbin Ma, Canquan Zhou and Junjiu Huang, Protein & Cell) (pdf)