U.S. Plans to Replenish Saudi Missiles Used in Air Strikes on Yemen that U.N. Says May Constitute Crimes against Humanity
Thursday, January 28, 2016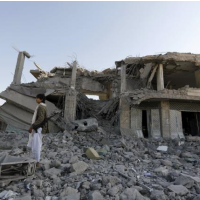 Remains of home of Yemeni judge Yahya Rubaid and family, killed this week by Saudi-led air strike (photo: Khaled Abdullah, Reuters)
By Michelle Nichols
UNITED NATIONS (Reuters) - A Saudi-led coalition fighting in neighboring Yemen has targeted civilians with air strikes and some of the attacks could be a crimes against humanity, United Nations sanctions monitors said in an annual report to the Security Council.
The report by the U.N. panel that monitors the conflict in Yemen for the Security Council, seen by Reuters on Wednesday, sparked calls by rights groups for the United States and Britain to halt sales of weapons to Saudi Arabia that could be used in such attacks.
The panel of experts documented 119 coalition sorties "relating to violations of international humanitarian law" and said that "many attacks involved multiple air strikes on multiple civilian objects."
The U.N. experts said all parties to the conflict in Yemen were violating international humanitarian law. They said that in certain cases the violations by the coalition were conducted in a "widespread and systemic manner" and therefore could qualify as crimes against humanity.
The U.N. experts recommended the 15-member Security Council consider establishing a Commission of Inquiry to investigate violations of international law.
The Saudi U.N. mission was not immediately available for comment.
"The U.S. and UK governments should immediately halt the transfer of any arms to the Saudi-led coalition that might be used for such violations, and they should back an international investigation into abuses committed by all sides," said Philippe Bolopion of international rights group Human Rights Watch.
The experts also said the Houthi rebels and their allies - forces loyal to former Yemen president Ali Abdullah Saleh - had conducted a systemic pattern of attacks against civilians, homes and hospitals and that these could be crimes against humanity.
The coalition began a military campaign in March to prevent Houthi rebels, whom it sees as a proxy for Iran, from taking complete control of Yemen after seizing much of the north. The Houthis accuse the coalition of launching a war of aggression.
Nearly 6,000 people have been killed since the coalition entered the conflict in March, almost half of them civilians.
British Prime Minister David Cameron told parliament on Wednesday that he would look at the U.N. report but that Britain followed "the strictest rules for arms exports of almost any country anywhere in the world."
State Department spokesman Mark Toner, declined to comment on the substance of the U.N. report as it had not yet been publicly released, but he said the United States was also concerned about serious allegations of abuse.
He called on all sides to abide by international humanitarian law, "including the obligation that they distinguish between military objectives and civilian objects, and to take all feasible actions to minimize harm to civilians."
U.S. and Saudi officials are continuing to work on a $1.29 billion sale of U.S. precision munitions approved in November, which seeks in part to replenish bombs and missiles used by the Saudis in Yemen. It should be finalized in coming months.
The U.N. experts are also investigating a potential transfer of anti-tank guided missiles to the Houthi and Saleh forces - in violation of a U.N. arms embargo - after a shipment was seized by U.S. and Australian warships off Oman on Sept. 25. They said the shipment originated from Iran and their inquiry continues.
Additional reporting by Arshad Mohammed and Kylie MacLellan.
To Learn More:
Red Cross Accuses U.S.-Backed Saudis of Deliberately Attacking Health Care Facilities in Yemen (by Noel Brinkerhoff, AllGov)
U.S. "Concern" Over Yemen Crisis Belies Its Military Support of Saudi Coalition Bombing (by Noel Brinkerhoff, AllGov)
In an Overlooked War, Saudis Use U.S.-Made Weapons to Kill Civilians in Yemen (by Noel Brinkerhoff, AllGov)
Saudi Arabia Military Ignores Restrictions on Use of U.S.-Made Cluster Bombs Maiming Civilians in Yemen (by Steve Straehley, AllGov)