Saudi Military Kills Civilians Using Widely Banned U.S.-Supplied Cluster Bombs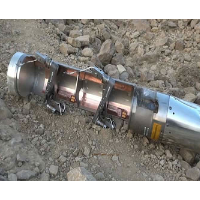 Remnants of a cluster bomb. Credit: Human Rights Watch
Saudi Arabia has been accused of using American-made cluster bombs during air strikes in Yemen in which dozens of civilians were been killed.
Human Rights Watch said in a new report that it uncovered video, photographs and other evidence of the Saudi air force employing cluster bombs near villages in Yemen's northern Saada Province on two separate occasions. The group, however, did not directly link any civilian casualties to the use of the controversial ordinance, which has been banned by more than 100 countries under the Convention on Cluster Munitions. The U.S. and Saudi Arabia, however, have refused to sign the agreement, which was ratified in 2008.
Despite the evidence, the Saudis claim they're not using cluster bombs. At a March 29 news conference, Saudi Brig. Gen. al-Assiri said, "We are not using cluster bombs at all."
"Saudi-led cluster munition airstrikes have been hitting areas near villages, putting local people in danger," Steve Goose, arms director at Human Rights Watch, said. "These weapons should never be used under any circumstances. Saudi Arabia and other coalition members – and the supplier, the U.S. – are flouting the global standard that rejects cluster munitions because of their long-term threat to civilians."
Cluster bombs are dropped from aircraft and disperse as smaller "bomblets" across a wide area. Although developed for use against combatants, cluster bombs have proven to be a danger to civilian populations because they can remain unexploded until stepped on or picked up, acting like a land mine.
The Saudis obtained 1,300 cluster bombs in a 2013 deal with U.S. defense contractor Textron Defense Systems, which made $640.8 million from the sale approved by the Pentagon. The United Arab Emirates has also purchased cluster bombs from Textron.
The New York Times reported that more than 1,000 people have died in Yemen since late March, "when the Saudis said their military was intervening to roll back the gains of the Houthis, a Shiite rebel group that had captured large parts of Yemen and forced the president, supported by Saudi Arabia, into exile."
-Noel Brinkerhoff
To Learn More:
Yemen: Saudi-Led Airstrikes Used Cluster Munitions (Human Rights Watch)
Saudi-Led Group Said to Use Cluster Bombs in Yemen (by Kareem Fahim, New York Times)
Obama Administration Gives Textron $641 Million Contract to Sell Cluster Bombs to Saudi Royal Family (by Noel Brinkerhoff, AllGov)
U.S. Seeing Profits, Rejects Cluster Bomb Treaty (by Noel Brinkerhoff, AllGov)