State Regulators Accuse U.S. Lawmaker of "Unprecedented" Meddling into ExxonMobil Fraud Investigations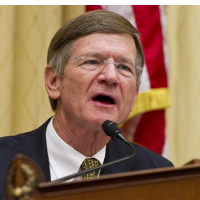 Rep. Lamar Smith (photo: Scott J. Ferrell, Congressional Quarterly/Getty Images)
By Adam KIasfeld, Courthouse News Service
MANHATTAN (CN) — Continuing their fraud investigations into ExxonMobil, the attorneys general of New York and Massachusetts refused to open their files for a climate change-denying House Committee on Science, Space and Technology chairman who hit them with subpoenas.
Both of the attorneys general call Rep. Lamar Smith's subpoenas — which sought their communications with advocacy groups, among other things — an "unprecedented" attempt to meddle with probes by state regulators.
Their investigations began shortly after the Los Angeles Times and Inside Climate News started publishing a groundbreaking series of articles reporting that ExxonMobil scientists privately confirmed the effects of a warming planet as early as the 1970s.
The Texas-based oil giant launched a misinformation campaign decades later, enlisting think tanks, junk scientists and lobbyists to stave off government action and mislead the public and shareholders, the outlets reported.
A month after the series went to press, New York's top prosecutor Eric Schneiderman and his Massachusetts colleague Maura Healey began looking into whether ExxonMobil's spin amounted to fraud.
Smith, a Texas Republican who has received more than $687,000 in fossil fuel donations, made his hostility to the investigations known earlier this month.
According to Open Secrets, Smith counts the oil and gas industry as his biggest lifetime donors and has used his science committee platform at every opportunity to try to discredit the scientific consensus on global warming.
Earlier this month, Smith announced his subpoenas against Schneiderman, Healey, and eight advocacy groups at a press conference where he called the ExxonMobil investigations "a form of extortion."
Three of recipients refused to comply on Tuesday, in separate scathing letters to the committee's office in Washington.
Announcing his reply on Twitter, Schneiderman called the subpoenas the work of "GOP extremists."
Schneiderman did not identify which extremists, but his letter quotes some of his detractors, including Illinois Rep. Darin LaHood, Ohio Rep. Warren Davidson, and Texas Rep. Randy Weber, according to the letter.
For LaHood, the probe was an "abuse of power," and Davidson railed against "using taxpayer dollars" to "send a political message."
"The committee's demand for documents and communications from the office of a duly elected state attorney general regarding an ongoing investigation of potential state-law violations raises grave federalism concerns," Schneiderman's office said in a 10-page letter. "Indeed, we have found no precedent for the issuance of such a subpoena."
Healey called it a "blatant attempt to chill her investigation into ExxonMobil's conduct."
ExxonMobil has been quick to claim that its decades of rhetoric downplaying climate change is First Amendment-protected expression rather than fraud.
But the Union of Concerned Scientists, a Washington-based advocacy group, says that civil society groups are the ones being silenced.
"UCS has not violated any law or regulation and there is absolutely no evidence that its advocacy work has intimidated anyone," their lawyer wrote in a two-page letter. "In contrast, your subpoena is intimidating and, if enforced, would interfere with our client's ability to participate freely in our democratic process. UCS will defend its rights so that it, and other advocacy groups, whatever their political perspectives or substantive agendas, may be free to exercise the birthright of all Americans."
The other targets of the committee's campaign include Greenpeace, Rockefeller Family Fund, Climate Accountability Institute, 350.org, and others.
Prominent civil liberties lawyer Burt Neuborne, a professor at New York University's school of law, has scoffed at ExxonMobil's First Amendment defense, and he said that oil giants and their congressional allies are increasingly trying to chill their critics' speech.
"In my opinion, the issuance of series of congressional subpoenas against critics of ExxonMobil is just another retaliatory gimmick aimed at making it too expensive and time consuming to criticize a powerful entity with deep pockets capable of enmeshing the critics in legal quicksand," he said in a memo.
In a statement, Rep. Smith vowed that the committee would "consider using all tools at its disposal to further its investigation."
"The Committee is disappointed that the New York and Massachusetts Attorneys General and the environmental activist organizations behind the AGs' efforts have refused to comply with lawfully issued subpoenas," he wrote. "Their noncompliance only raises additional questions."
With the House out of session, the committee may vote on whether to hold the subpoena recipients in contempt of Congress in September.
Such a vote would be forwarded to the Department of Justice to determine whether there are grounds for contempt proceedings, which would take place in Federal Court.
To Learn More:
Investigations Grow into Alleged Exxon Mobil Climate-Change Deception (by Jake Pearson, Associated Press)
ExxonMobil May Only Be First of Oil Giants to Be Investigated for Obscuring Climate Science (by Steve Straehley, AllGov)
ExxonMobil Accused of Deceiving Public on Climate Change Risks to Protect Profits (by Steve Straehley, AllGov)
Nation's Scientists Protest House Science Chairman's Mission to Discredit NOAA Global Warming Report (by Noel Brinkerhoff, AllGov)