ExxonMobil May Only Be First of Oil Giants to Be Investigated for Obscuring Climate Science
Sunday, November 08, 2015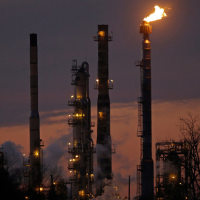 ExxonMobil refinery (photo: Gerald Herbert, AP)
Other oil companies might soon find themselves in prosecutors' crosshairs just as ExxonMobil is being investigated about whether it hid information about climate change.
ExxonMobil is now being scrutinized by the New York attorney general about its record on climate change. Other companies, such as BP, Shell and Texaco, which is now part of Chevron, were also among those that questioned climate science and joined organizations that fought policies designed to tackle the problem. According to energy industry experts, those companies could also be investigated to determine whether their public stance on the issue coincided with their internal discussions.
"ExxonMobil is not alone," Stephen Zamora, a professor at the University of Houston Law Center, told The New York Times. "This is not likely to be an isolated matter."
"There was a concerted effort by multiple American oil companies to obscure the emerging climate science consensus throughout the 1990s," Paul Bledsoe, a former White House aide to President Bill Clinton on climate issues, told the Times. "This group may be vulnerable to legal challenge."
Although U.S. companies have done research into alternative forms of energy, those from Europe and elsewhere have been much more proactive about cutting their carbon footprints. In September, five energy companies from Europe, Asia and South America joined a United Nations-backed program established to monitor and disclose methane emissions. The program also aims to control greenhouse gases produced by the companies' operations by way of investments in technologies that target those pollutants, the Times reported.
Still, prosecutors going after ExxonMobil and other oil companies face a difficult task. "Unless they directly lied in Congress, the legal case against them is kind of thin," Hal Harvey, chief of Energy Innovation, an energy consultancy, told the Times. On the other hand, he pointed out, it's fairly clear that the oil firms "have walked away from being a credible spokesman on science."
-Steve Straehley
To Learn More:
More Oil Companies Could Join Exxon Mobil as Focus of Climate Investigations (by Clifford Krauss, New York Times)
ExxonMobil Accused of Deceiving Public on Climate Change Risks to Protect Profits (by Steve Straehley, AllGov)
CEO Pay System at Top U.S. Energy Firms Rewards Execs for Deepening Climate Crisis (by Noel Brinkerhoff, AllGov)