ExxonMobil Accused of Deceiving Public on Climate Change Risks to Protect Profits
Monday, November 02, 2015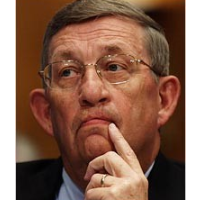 Former Exxon chairman Lee R. Raymond (photo: Dennis Cook, AP)
Activists groups have joined to petition the Justice Department to investigate ExxonMobil to find whether it deceived the public about what it knew about global climate change.
In the 1970s and 1980s, Exxon stood out among oil companies for its research into climate change. The company's executives knew that its operations would be affected by warming in the Arctic, among other regions, and wanted to be ready.
Exxon's research found that climate change was real and it would pose increasing problems. The company's scientists openly wrote about the risks that carbon emissions would pose to the planet. "Present thinking holds that man has a time window of five to ten years before the need for hard decisions regarding changes in energy strategies might become critical." That sentence was part of a report written by Exxon scientist James F. Black in 1978, according to Inside Climate News.
Much of the company's research was focused on the Canadian Arctic. "Certainly any major development with a life span of say 30-40 years will need to assess the impacts of potential global warming," senior ice researcher Ken Croasdale of Exxon's Canadian subsidiary told an engineering conference in 1991. "This is particularly true of Arctic and offshore projects in Canada, where warming will clearly affect sea ice, icebergs, permafrost and sea levels."
Then, in the late 1990s, the company's tune changed. Under then-chairman and chief executive Lee R. Raymond, Exxon began working in opposition to the Kyoto Protocol climate treaty. "We need to understand the issue better, and fortunately, we have time," Raymond said in a 1997 speech. "It is highly unlikely that the temperature in the middle of the next century will be significantly affected whether policies are enacted now or 20 years from now."
The company merged with Mobil in 1999, creating the behemoth ExxonMobil and began to fund climate-change denial efforts. For more than a decade it financed the efforts of conservative groups to publicly attack the scientific consensus that climate change is a real threat to the planet.
The letter from the environmental groups compares the obfuscation practiced by ExxonMobil on climate change to the tobacco industry's cover-up of its own data that showed the dangers of smoking. It also cites reporting done by Inside Climate News and the Los Angeles Times on ExxonMobil's practices.
Now the company's predictions about warming in the Arctic have become reality, and ExxonMobil is prepared. It has requested an extension of leases in the region so that it may begin drilling for oil when the ice is gone.
-Steve Straehley
To Learn More:
Exxon Mobil Accused of Misleading Public on Climate Change Risks (by Justin Gillis and John Schwartz, New York Times)
What Exxon Knew about the Earth's Melting Arctic (by Sara Jerving, Katie Jennings, Masako Melissa Hirsch and Susanne Rust, Los Angeles Times)
The Department of Justice Must Investigate ExxonMobil (350.org)
Exxon's Own Research Confirmed Fossil Fuels' Role in Global Warming Decades Ago (by Neela Banerjee, Lisa Song and David Hasemyer, Inside Climate News)
CEO Pay System at Top U.S. Energy Firms Rewards Execs for Deepening Climate Crisis (by Noel Brinkerhoff, AllGov)
Climate Change Denial Gets Billions in Dark Money from Conservative Groups (by Noel Brinkerhoff, AllGov)
Chevron and ExxonMobil Top List of 90 Biggest Industrial-Age Polluters (by Noel Brinkerhoff and Danny Biederman, AllGov)