Risk of Oil Spill Fuels White House Debate over Arctic Offshore Oil Drilling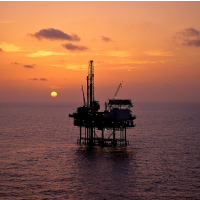 (photo: Education Images/UIG via Getty Images)
By James Osborne, New York Times
WASHINGTON - The future of oil and gas drilling in the U.S. Arctic faces a critical test as the White House considers whether to continue leasing undersea fields off Alaska's remote northern coastline.
For decades, oil workers have drilled into the frozen tundra of northern Alaska, tapping a reserve that once accounted for close to a quarter of the nation's oil production. But as the flow of oil from those fields has declined, companies like ConocoPhillips and Royal Dutch Shell looked out to the iceberg-packed waters of the Arctic Ocean.
Now, the Obama administration will decide whether the potential benefit to U.S. energy security outweighs both its commitment to reduce the country's carbon emissions and the potential risk of an oil spill in what are perhaps the country's harshest and most remote waters.
Since Interior Secretary Sally Jewell announced in March that lease sales along the Atlantic coastline were off the table, attention has shifted to the Arctic as energy industry trade groups and environmentalists try to sway the White House. That has sparked concern among oil companies operating in Alaska that their opportunity to drill off northern Alaska could be finished.
Kara Moriarty, president of the Alaska Oil and Gas Association, which represents companies such as Shell, BP and Exxon Mobil, said she thought canceling the lease sales "would be incredibly shortsighted. The environmentalists should go look at what the forecasts show about where their energy is going to come from."
For now, lease sales are scheduled in 2020 and 2022 for fields off Alaska's Arctic coast in the Beaufort and Chukchi seas. But those lease sales remain under review. Even if approved, the administration has warned that development and operations would be under strict oversight from government inspectors to ensure minimal danger to Arctic wildlife.
A coalition of environmental groups that includes the Sierra Club and the Alaska Wilderness League was preparing this week to deliver a petition with 1 million signatures opposing lease sales in the Arctic and the Gulf of Mexico to the Bureau of Ocean Energy Management, which oversees offshore drilling, Greenpeace senior researcher Tim Donaghy said.
Their demands follow a meeting of world leaders in Paris in December at which close to 200 countries agreed to put carbon emission controls in place to keep the planet from warming no more than 2 degrees Celsius.
"We've discovered more than enough oil to put us over that limit," Donaghy said. "Looking for more oil at this point is counterproductive."
Efforts to tap the federal waters off northern Alaska stretch back to the 1980s, but companies have produced only one commercially viable well. Last year, Shell announced it was pulling out of the U.S. Arctic, despite having already spent billions of dollars, amid litigation from environmental advocacy groups like Greenpeace and a historic bust in crude prices.
Companies including Exxon Mobil Corp., BP and ConocoPhillips have also relinquished offshore leases in the U.S. and Canadian Arctic, effectively ending any prospect of any development there for years to come.
For the oil industry that remains on the North Slope region of Alaska, offshore drilling is a lifeline. The amount of oil moved through the famed Trans-Alaska Pipeline, which runs 800 miles south to the port of Valdez, is down to less than 600,000 barrels a day, from more than 2 million barrels a day in the late 1980s, according to Aleyska, the company that operates the pipeline.
The hope among those working in remote outposts like Prudhoe Bay is that once oil prices rebound, as some analysts predict, companies will be there to bid on the leases. At stake is an industry that is critical to the Alaska economy. With oil revenues down since the bust, the state government is now running a $4 billion budget deficit and is talking about imposing a state income tax for the first time in decades.
"I know (the oil companies) won't be there if they don't have access," Aleyska spokeswoman Michelle Egan said. "Historically, there's been a lot of interest in that area."
Only 1,200 miles from the North Pole, the vast majority of the North Slope is wilderness, uninhabited by man and ruled by caribou and wolves. But along the region's coastline live native Inupiat, who trace their history on the land back millennia.
The village of Point Lay, population 247, sits in perpetual sunlight this time of year, its people still hunting walrus and bowhead whales to feed their families, tribal president Marie Tracey said.
The fear is an oil spill, like BP's Deepwater Horizon accident in the Gulf of Mexico, would kill off the marine and bird life upon which the village depends for its survival. But native leaders are far from unified on the issue, with native-owned corporations like the Arctic Slope Regional Corp. pressing for development that protects the ecosystem, but also delivers the oil revenues to tribal members.
But Tracey and other native leaders opposing the new leases say the risk of a spill is too great.
"We have our food source out there in the ocean, and if there's an oil spill out there, there's no scientific proof they clean it up," Tracey said. "It would take days, if not weeks, for the Coast Guard to get up here."
For now, it's unclear whether the Obama administration will award new leases. At a Senate hearing last month, Bureau of Ocean Energy Management director Abigail Hopper demurred when asked to describe which way her agency was leaning on the Arctic drilling. But before Hopper could leave, Sen. Lisa Murkowski, R-Alaska, asked about a tweet from the agency's account.
It included a photo of Hopper meeting with Tracey and other native Alaskans, saying, "Great meeting w/ Tribal Council of Native Village Point Lay & (at) alaskawild reps re: opposition to #Arctic drilling."
"I looked at it, and it doesn't necessarily show me there's impartiality within BOEM," Murkowski said. "How do we not conclude that the die is already cast?"
To Learn More:
U.S. Pulls Plug on New Arctic Oil Drilling Leases (by Steve Straehley, AllGov)
Alaska Governor Wants to Pay for Climate Change Programs by Drilling in Arctic Wildlife Refuge (by Noel Brinkerhoff and Steve Straehley, AllGov)
After All the Fuss and Fighting and Lobbying, Shell Gives up on Offshore Alaska Oil Drilling (by Noel Brinkerhoff and Danny Biederman, AllGov)
Obama Gives Go-Ahead to Arctic Oil Drilling (by Noel Brinkerhoff and Steve Straehley, AllGov)
Interior Dept. Ignores Own Advice and Embraces Bush-Era Oil Leases for Arctic Drilling (by Noel Brinkerhoff, AllGov)