Alaska Governor Wants to Pay for Climate Change Programs by Drilling in Arctic Wildlife Refuge
Thursday, October 15, 2015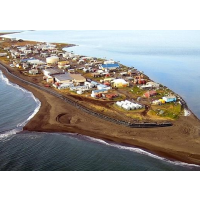 Rising sea levels move in on Kivalina, Alaska (AP photo)
Alaska is already feeling the effects of climate change, with some of its villages on the verge of falling into the sea. But instead of working to combat global warming, the state's governor, Bill Walker, an independent, is proposing more oil drilling in his state—specifically in the protected Arctic National Wilderness Refuge (ANWR)—to pay for relocating villages vulnerable to rising sea levels.
Alaska has no sales or income taxes, relying almost wholly on oil and gas revenues to fund the government and provide a dividend for each Alaskan. However, demand for oil is down even as the price per barrel has been cut in half over the past year, and the Trans Alaskan Pipeline is running at only 25% of its 2 million barrels a day of capacity. As a result, government revenues are down in Alaska.
Environmentalists say opening up ANWR to drilling "could have catastrophic impacts for the environment and native communities" that depend on the refuge, according to ThinkProgress.
"What's going on in villages is certainly of concern to me as an Alaskan but I think the governor knows there's never going to be enough money to move everybody that needs to be moved as climate change continues to advance," Lois Epstein of the Wilderness Society told the BBC.
"It's really not going to be something that the state is going to take on its own. The federal government is going to help, but we really need some bigger strategies to deal with climate change both as a state and a nation."
ANWR's coastal plain is a calving habitat for the Porcupine caribou, an animal that the Gwich'in people heavily depend upon for food. Drilling in ANWR could threaten the caribou's habitat, according to ThinkProgress.
-Noel Brinkerhoff, Steve Straehley
To Learn More:
Alaska Mulls Extra Oil Drilling to Cope with Climate Change (by Matt McGrath, BBC News)
Alaska Governor Wants To Drill In the Arctic National Wildlife Refuge to Pay for Climate Programs (by Natasha Geiling, ThinkProgress)
Alaska Governor's Puzzling Math: To Cope with Climate, We Must Drill More Oil (by Deirdre Fulton, Common Dreams)
Obama Gives Go-Ahead to Arctic Oil Drilling (by Noel Brinkerhoff and Steve Straehley, AllGov)