Obama Gives Go-Ahead to Arctic Oil Drilling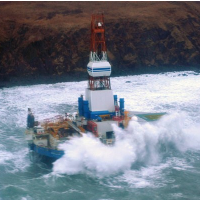 Shell oil rig aground in Alaska, 2013 (photo: Jonathan Klingenberg, U.S. Coast Guard)
The Obama administration has approved another request from Shell to drill for oil in the Arctic Ocean. The oil giant was granted a permit to begin offshore drilling in the Arctic three years ago. But that effort had numerous problems, including an oil rig running aground in the Gulf of Alaska.
Following that false start, the Department of the Interior told Shell to halt drilling and improve its safety issues. Federal officials claim earlier concerns have been resolved, clearing the way for Shell to resume its exploratory work in the Chukchi Sea, to the northwest of Alaska. It's estimated that up to 15 billion barrels of oil lies under that sea, which is even more remote than the Gulf of Alaska. The closest Coast Guard station that has equipment to respond to an oil spill is more than 1,000 miles away and the area is a migration route and feeding area for marine mammals, according to The New York Times.
Environmentalists vehemently object to the drilling plan, saying an oil spill in the oft-frozen waters could result in a major ecological tragedy that could exceed the 2010 disaster in the Gulf of Mexico. There is still oil remaining from that spill, and its location and weather made cleanup there much easier than it would be if a similar blowout were to occur Arctic waters, especially during winter.
"Not only does it put the Arctic's pristine landscapes at a huge risk for oil spills and industrial development, but it's utterly incompatible with President Obama's rhetoric to address the climate crisis," the Center for Biological Diversity told the Los Angeles Times.
-Noel Brinkerhoff, Steve Straehley
To Learn More:
U.S. Will Allow Drilling for Oil in Arctic Ocean (by Coral Davenport, New York Times)
Obama Administration Says Yes To Drilling in the Arctic (by Emily Atkin, ClimateProgress)
Shell Hopes To Begin Arctic Oil Drilling Project This Summer (by William Yardley, Los Angeles Times)
Interior Dept. Ignores Own Advice and Embraces Bush-Era Oil Leases for Arctic Drilling (by Noel Brinkerhoff, AllGov)
Obama Gives Green Light to Shell Drilling for Oil in Arctic (by Noel Brinkerhoff, AllGov)