U.S. Pulls Plug on New Arctic Oil Drilling Leases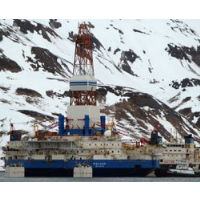 Shell drilling rig in the Arctic (photo: Jim Paulin, AP)
The Obama administration has stopped the sale of new Arctic oil drilling leases for 2016 and 2017, putting an end, at least for now, of new exploration in that environmentally sensitive area.
The administration also said it would not renew current leases set to expire in 2020 held by Shell and Norwegian petroleum company Statoil.
The announcement was made the month after Shell gave up on its exploration efforts in the Alaskan Arctic after spending seven years and $7 billion on the efforts, which were hampered by the harsh conditions in the region and protests from environmentalists. The decision also came as the price of oil stabilized around the $50-per-barrel mark with a glut of the product in the United States.
"In light of Shell's announcement the amount of acreage already under lease and current market conditions, it does not make sense to prepare for lease sales in the Arctic in the next year and a half," Interior Secretary Sally Jewell said in a statement.
Some Alaskan officials didn't take the news well. The state has been hurt by falling oil prices and a drop in oil consumption and some hoped to boost Alaskan finances with more drilling. Republican Sen. Lisa Murkowski said she would work in the U.S. Congress to extend drilling leases and called the administration's action a "stunning, shortsighted move," according to The New York Times.
For now, the announcement means that an estimated 13% of the world's unexplored oil reserves will remain in the ground and out of the atmosphere, perhaps slowing the effects of climate change on the fragile Alaskan landscape.
-Steve Straehley
To Learn More:
Obama Administration Blocks New Oil Drilling in the Arctic (by Suzanne Goldenberg, The Guardian)
U.S. Blocks Alaskan Arctic Drilling for 2 Years (by Clifford Krauss, New York Times)
Alaska Governor Wants to Pay for Climate Change Programs by Drilling in Arctic Wildlife Refuge (by Noel Brinkerhoff and Steve Straehley, AllGov)
After All the Fuss and Fighting and Lobbying, Shell Gives up on Offshore Alaska Oil Drilling (by Noel Brinkerhoff and Danny Biederman, AllGov)
Obama Gives Go-Ahead to Arctic Oil Drilling (by Noel Brinkerhoff and Steve Straehley, AllGov)
Interior Dept. Ignores Own Advice and Embraces Bush-Era Oil Leases for Arctic Drilling (by Noel Brinkerhoff, AllGov)