Despite Talk of Drones, 3/4 of U.S. Missiles in Afghanistan are Fired by Piloted Airplanes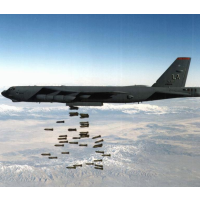 (photo: U.S. Air Force)
Apparently stung by mounting criticism of its remote control assassination program, the Obama administration early this month secretly reneged on an Air Force promise to "provide more detailed information on [drone operations] in Afghanistan" by failing to provide data on drone strikes for February. And in an Orwellian twist, the Air Force removed the previously released data on drone strikes from the reports for October 2012 to January 2013.
According to the data, the Air Force actually relies more heavily on piloted aircraft to conduct airstrikes, with drones responsible for only about one-quarter of missiles fired. The data shows that the Air Force conducted 1,366 drone strikes in Afghanistan between 2009 and January 2013. Although casualty figures were omitted, it is known that the U.S. has killed between 3,049 and 4,376 civilians in Pakistan, Yemen, and Somalia during about 500 "covert" drone strikes, including at least 179 children—the equivalent of 9 Newtown child massacres.
Indeed, parents who have seen their children killed by U.S. bombs don't care if the person who pushed the button that released the bomb were inside an airplane or in a control room thousands of miles away.
The "sanitized" reports without the drone strike data were created on February 22, just two days after Sen. Rand Paul (R-Kentucky) threatened to filibuster the nomination of John Brennan to be CIA Director over Paul's concerns that the Obama administration believed it had the authority to use drone strikes inside the U.S. Joined by Sen. Ron Wyden (D-Oregon), Paul filibustered for almost 13 hours, finally getting a denial from Attorney General Eric Holder that this administration believes it has such authority.
Although the Defense Department released a statement claiming the data was removed to make the reports more accurate in light of the unsupported assertion that most drone operations do not include strikes, the Pentagon also took pains to state that it was not involved in the decision to hide the data. That can only mean that the decision came straight from the White House—almost certainly from President Obama himself, who, ironically, promised in 2008 to run the federal government in a more open and transparent manner.
-Matt Bewig
To Learn More:
Erased US Data Shows 1 in 4 missiles in Afghan Airstrikes now Fired by Drone (by Alice K Ross, Bureau of Investigative Journalism
AF Removes RPA Airstrike Number from Summary (by Brian Everstine and Aaron Mehta, Air Force Times)
Combined Forces Air Component Commander 2007-2012 Airpower Statistics (U.S. Air Forces Central Command) (pdf)
Drones Now Account for One-Quarter of U.S. Strikes in Afghanistan (by Noel Brinkerhoff, AllGov)