Release of Nonviolent Drug Offenders Helps Bring U.S. Prison Population to 12-Year Low
Friday, December 30, 2016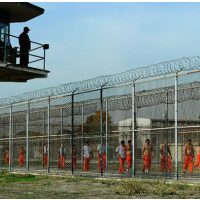 (photo: Kevork Djansezian, AFP/Getty Images)
By Timothy Williams, New York Times
The nation's jail and prison population decreased in 2015, according to federal data released Thursday, and the number of adults locked up or on parole or probation fell to a level not seen since 2002 while overall crime continued to drop.
Reasons for the declining incarceration rates include the federal prison system releasing thousands of nonviolent drug offenders in 2015 and states seeking to save money by enacting legislation and policies to reduce prison populations.
The 2015 data was compiled by the Bureau of Justice Statistics in an annual report that focuses on the nation's prison and jail populations. Data for 2016 will not be available until December 2017.
Adults in jail, prison, on parole or probation: 6.7 million, which represents about 1 in 37, or 2.7 percent, of all adults in the United States, a level far higher than in most other nations but the lowest rate in the United States since 1994. Of those 6.7 million adults, some 2.2 million were in local jails or in state and federal prisons — about 51,000 fewer than in 2014. The rest were either on probation (about 3.8 million) or parole (about 870,000).
Total prison population: 1.5 million, which is the lowest level since 2005. The 2.3 percent decrease since 2014 in the number of prisoners represented the largest decline since 1978. The year with the most prisoners on record was 2009, when there were about 1.6 million inmates.
Some 1.4 million men were in prison in 2015, down 30,000 inmates or 2.1 percent from a year earlier. The number of women in prison (105,000) fell more modestly, by 1,100 inmates or about 1 percent.
Imprisonment rates for white, black and Latino adults were all at their lowest levels since 2005. The rate of imprisonment for black adults decreased 4 percent, to 1,745 per 100,000. For Latinos, the figure dropped 5 percent to 820 per 100,000. The rate for white adults was virtually unchanged at 312 per 100,000.
While the nation's imprisonment rate fell by more than 8 percent from 2010 to 2015, violent and property crimes have dropped at even greater levels — a combined 14.6 percent.
To Learn More:
Correctional Populations in the United States, 2015 (by Danielle Kaeble, Lauren E. Glaze, Bureau of Justice Statistics)
U.S. Prisoner Population on the Rise Again after 3-Year Decline (by David Wallechinsky, Noel Brinkerhoff and Steve Straehley, AllGov)
Prison Population Shrinking; States Ready to Sell Extra Prisons (by Noel Brinkerhoff and David Wallechinsky, AllGov)
Federal Prison Population Multiplies 10 Times in 30 Years (by Matt Bewig, AllGov)
Federal Prisons Face Overcrowding (by Noel Brinkerhoff, AllGov)
People Imprisoned in U.S. for Drug Offenses Skyrockets from 41,000 to 507,000 in 30 Years (by Noel Brinkerhoff, AllGov)
Sentencing Reform Reduces Prison Population without Increasing Crime (by Noel Brinkerhoff, AllGov)
U.S. Prison Population Larger Than That of 12 States (by Noel Brinkerhoff, AllGov)