Federal Prisons Face Overcrowding
Monday, September 17, 2012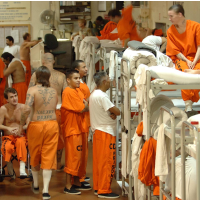 (photo: California CDCR)
Despite adding thousands of new beds, overcrowding in federal prisons continues to grow.
The Bureau of Prisons made room for 8,300 more inmates from 2006 to 2011, according to a new report from the Government Accountability Office. And yet the system's rate of overcrowding went up from 36% to 39%. Still worse, the rate could reach 45% by 2018.
Overcrowding can lead to unrest among inmate populations and increased episodes of violence directed at prisoners and guards. The bureau's inspector general expressed concerns last year about federal prison officials' ability to "safely manage the increasing federal inmate population."
Five new detention facilities were opened during the five years under study, but the 7% increase in capacity wasn't enough to accommodate the 9.5% rise in the federal prison population. Overcrowding was worst in high security prisons. By the end of 2011, federal prisons held 177,934 inmates, 165,595 of whom were men. Of the total, 48% of inmates were serving sentences for drug-related offenses.
-Noel Brinkerhoff
To Learn More:
Bureau of Prisons Faces a Growing Overcrowding Problem (by Amanda Palleschi, Government Executive)
Bureau of Prisons: Growing Inmate Crowding Negatively Affects Inmates, Staff, and Infrastructure (Government Accountability Office) (pdf)
Should Elderly Prisoners be Released Early? (by Noel Brinkerhoff, AllGov)
Thousands of Federal Crack Prisoners Set for Early Release (by David Wallechinsky and Noel Brinkerhoff, AllGov)