U.S. Prisoner Population on the Rise Again after 3-Year Decline
Thursday, September 18, 2014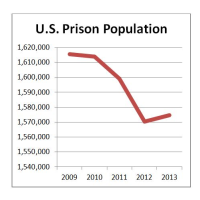 (graphic: Steve Straehley, AllGov)
The world's largest prison system got a little bigger last year after several years of shrinking in size.
U.S. prisons held 1,574,700 inmates in 2013, the U.S. Department of Justice reported, which represented an increase of 4,300 inmates from 2012's total. The rise ended a three-year streak of declining prisoner numbers in the United States from 2009 to 2012.
Correctional populations went up in 27 states, Ted Gest of The Crime Report noted, "an indication that tough sentencing continues in the courts even in an era of lower crime rates."
The number of federal prisoners actually decreased by 1,900, the first census drop in federal institutions since 1980. That number was outweighed by an increase in the population of state prisons. Texas led the way with 1,908 more prisoners, a 2% increase. California's numbers were up by 1% last year after previously dropping because of court-mandated anti-crowding orders.
"This increase is a clear sign that we're not doing what it takes to reduce our incarceration," Malcolm Young, a sentencing expert based in Washington, D.C., told The Crime Report.
The incarceration rate did fall slightly last year, from 480 per 100,000 U.S. residents to 478, but that was a function of the general population increasing.
Among the other statistics highlighted in the Justice Department report:
Eight percent of prisoners were held in private prisons and five percent in local jails.
Three percent of all black males of all ages were imprisoned as of December 31, 2013, in comparison to 0.5 percent of white males.
The states with the highest imprisonment rate were Louisiana (1,114 per 100,000 population), Mississippi (918 per 100,000) and Oklahoma (872 per 100,000). Nevada did not provide usable statistics.
The lowest rates were found in Massachusetts (242 per 100,000 population), Rhode Island (243 per 100,000) and Minnesota (247 per 100,000).
-David Wallechinsky, Noel Brinkerhoff, Steve Straehley
To Learn More:
Prisoners in 2013 (by E. Ann Carson, U.S. Department of Justice) (pdf)
Confounding Critics, Nation's Prison Population Rises (by Ted Gest, Crime Report)
Report Finds Slight Growth in Population of Inmates (by Erik Eckholm, New York Times)
Prison Population Shrinking; States Ready to Sell Extra Prisons (by Noel Brinkerhoff and David Wallechinsky, AllGov)