Obama Disrupts Trump's Plan to Register Muslims by Dismantling Remains of Bush-Era Program
Friday, December 23, 2016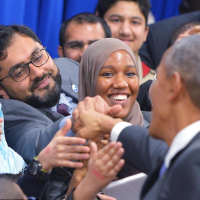 President Obama (R) greets attendees after addressing Islamic Society of Baltimore, Feb. 2016 (photo: AFP/Getty Images)
By Adam Klasfeld, Courthouse News Service
MANHATTAN (CN) — Taking action against Donald Trump's plan to have people register as Muslims with the U.S. government, President Barack Obama announced on Thursday that he would dismantle an archetype for the program created 14 years ago.
Created in September 2002, George W. Bush's National Security Entry-Exit Registration System fingerprinted, photographed and monitored noncitizens from 25 primarily Muslim nations, with the exception of North Korea.
The Bush administration justified the privacy intrusion by citing the need for security after the Sept. 11 attacks, but the database of more than 80,000 teenage boys and men did not result in a single terrorism conviction.
More than 13,000 were, however, placed in removal proceedings.
Though Obama suspended NSEERS in 2011, its architecture has remained in place.
In the wake of Trump's election, despite having lost the popular vote by more than any U.S. president in history, New York Attorney General Eric Schneiderman urged Obama to shutter the program on Wednesday.
Responding to anxiety within the civil-rights community, the Department of Homeland Security published a plan Thursday to do just that.
Schneiderman applauded the White House for its swift action in agreeing to dispose the "idle and ineffective federal registry that targeted Muslims and undermined our core values" in the dustbin of history.
"As I wrote earlier this week, the program was a law enforcement failure that left in place a regulatory framework that could be used to create President-elect Trump's promised unconstitutional Muslim registry," the attorney general said. "This is a win for civil rights and for smart, effective law enforcement, as well as for the strong coalition of advocacy organizations and others who fought to dismantle this discriminatory tool."
Mohammad Jafar Alam, who calls himself a survivor of the original NSEERS program, commended the Obama administration for its decision.
"I know exactly what a program like NSEERS does to a person and their family," Alam said in a statement through the civil-rights group called DRUM, short for Desis Rising Up & Moving. "The extreme mental, emotional distress, the financial problems, the pressures on a family and the isolation that happens is a punishment not just for one person, but everyone involved. NSEERS had millions of dollars spent and was useless in the role it was supposed to have on safety. Instead, money was wasted and our communities and all the families involved with Special Registration, were altogether punished."
DRUM's executive director Fahd Ahmed said the organization's members are "elated and happy and joyous" about the Obama administration's action.
"For us and our members, because we have the experiences and memories of what happened the first time around, it was very, very important that we try to get out ahead of this," Ahmed said in a phone interview.
Ahmed emphasized that DRUM is among many organizations that have worked toward today's development.
MoveOn.org had joined DRUM and at least a dozen other civil-society groups in support of a petition on the issue that garnered 341,000 signatures. The organization delivered the petition to the White House last week following a march from the Department of Justice's headquarters.
Baher Azmy, legal director of the Center for Constitutional Rights, said in an interview that action against NSEERS had been long overdue.
"Perhaps we should have put the nail in that coffin many months ago," rather than risk it falling into the hands of a "dangerous demagogue," Azmy added.
In moving to disband the program, Obama is taking an action that Department of Homeland Security's inspector general recommended in February 2012.
"Leaving the regulatory structure of the NSEERS program in place provides no discernible public benefit," the agency's inspector general, Charles Edwards, found at the time.
"Deficiencies we identified in the NSEERS program were not related to the composition of the list of subject nationalities, but rather to the insufficient value of the NSEERS data," Edwards' 59-page report continues. "We encourage DHS to dismantle the vestiges of the program."
Trump's administration almost certainly had been eyeing its revival.
Kansas Secretary of State Kris Kobach, an influential Republican advising Trump on immigration, was photographed standing next to the future president holding paperwork describing a "strategic plan."
Zooming in on the text, the Topeka Capital-Journal found at the top of the list: "Update and reintroduce the NSEERS screening and tracking system (National Security Entry-Exit Registration System) that was in place from 2002-2005."
"All aliens from high-risk areas are tracked," Kobach's agenda said.
For Schneiderman, the New York attorney general, NSEERS echoed a sorrowful moment in U.S. history.
"We can never allow our nation to return to the dark days of Japanese internment," the attorney general said. "By finally dismantling the NSEERS program now, President Obama can make a repeat of that horror significantly more difficult."
For MoveOn.org's campaign director Iram Ali, happiness over today's news was tempered by the challenges ahead.
"We fought for this, for this victory," she said. "But I also know that this isn't over."
In the wake of the attack on a Berlin market, Trump reiterated his call to ban Muslims from entering the United States. "You know my plans," the president-elect told a reporter Wednesday outside his Mar-a-Lago resort in Florida. Trump has not held a press conference since July.
Citing those reports, Ali said: "That goes to show that we have a lot more work to do."
To Learn More:
Obama Urged to Dismantle Post-9/11 Muslim Registry before Trump Can Reactivate It (by Adam Klasfeld, Courthouse News Service)
U.S. Hate Crimes against Muslims Rose in 2015 to Highest Level since Aftermath of 9/11 Attacks (Associated Press)
Trump and Cruz Want Muslim Neighborhoods in U.S. "Patrolled and Secured" by Law Enforcement (by Vivian Salama and Jonathan Lemire, Associated Press)
Muslim-Americans in U.S. Military Jolted by Anti-Muslim Sentiment in U.S. (by Steve Straehley and Noel Brinkerhoff, AllGov)
Fresno and San Diego Republicans Rally Around Trump and His Anti-Muslim Policies (by Ken Broder, AllGov California)
Anti-Muslim Rhetoric, Once Used Only by Far-Right, Has Now Gone Mainstream Republican (by Steve Straehley, AllGov)